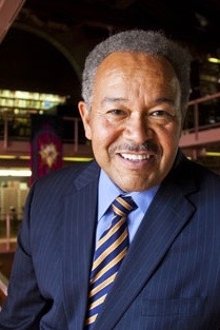 As the country counts down to the Nov. 8 presidential election, Emory University's Candler School of Theology will host public intellectuals and scholars of religion and culture for a lecture series entitled "Faith and Politics in the 21st Century."
The series opens on Sept. 7 and is sponsored by Candler's James T. and Berta R. Laney Legacy in Moral Leadership, in cooperation with Emory's James Weldon Johnson Institute for the Study of Race and Difference.
Robert M. Franklin, Jr., James T. and Berta R. Laney Professor in Moral Leadership, organized the series to enrich a class on Christianity and politics he is teaching this semester, choosing guest speakers from a wide variety of specialties, including university professors, nonprofit leaders, a political strategist, a public opinion researcher and a Pulitzer Prize-winning columnist.
"Christianity has played a unique role in the formation of America," says Franklin. "These lectures will examine the role of religious ideas and values in shaping public policy and general standards of public morality."
 He also notes that the discussions will be particularly resonant with the current election as the backdrop.
"The 2016 presidential election has already proven to be one of the most unique in modern history. No matter who wins, the next president will be an historic leader who disrupts the continuity of American political history."
All lectures are free and open to the public, with advance registration required. Register for each lecture individually by clicking the links below or by visiting candler.emory.edu/news/events and navigating to the date of the lecture you wish to attend.
Most lectures will take place on Wednesdays at 6 p.m. in Room 252 of Candler's Rita Anne Rollins Building; any exceptions to the event time or location are noted below. 
"Faith and Politics in the 21st Century" Lecture Series
Sept. 7: "The End of White Christian America and Its Implications for the 2016 Election"
Robert P. Jones, Founder and CEO, Public Religion Research Institute
Location: William R. Cannon Chapel on Emory's campus 
[Register now]
Sept. 14: "Can Conservative Religion Save Us? Thoughts on the Media, Faith and Democracy"
Marla Frederick, Professor of African and African American Studies and the Study of Religion, Harvard University 
[Register now]
Sept. 21: "What Would Jesus Do? Developing a Political Economy of Justice"
Obery M. Hendricks, Jr., Senior Fellow, The Opportunity Agenda, and Visiting Scholar, Columbia University Department of Religion and Institute for Research in African American Studies
[Register now]
Sept. 28: "Faith and Economic Justice"
Julianne Malveaux, Founder and President, Economic Education, and Professor Emerita, Bennett College 
[Register now]
Oct. 5: "Abraham Lincoln and Political Agape: Lessons for Our Own Context"
Timothy P. Jackson, Professor of Christian Ethics, Candler School of Theology 
[Register now]
Oct. 12:  "The Politics We Need: Faith, the Presidential Election and the Choices Ahead"
Michael Wear, Founder, Public Square Strategies, and former staff for faith-based initiatives in the Obama administration
[Register now]
Nov. 9: "Diversity, Demographics and the Age of Donald Trump"
Cynthia Tucker Haynes, Pulitzer Prize-winning syndicated columnist and former editorial page editor, The Atlanta Journal-Constitution
Time: 11 a.m.
[Register now]
Each lecture will be followed by a Q&A session. Parking is available in the Peavine Visitors' Lot and the Peavine Parking Deck. For more information, visit candler.emory.edu.
Candler School of Theology at Emory University prepares real people to make a real difference in the real world. An intellectually vital, internationally distinguished, and intentionally diverse university-based school of theology, its mission is to educate faithful and creative leaders for the church's ministries throughout the world. Candler is dedicated to expanding knowledge of religion and theology, deepening spiritual life, strengthening the public witness of the churches, and building upon the breadth of Christian traditions, particularly the Wesleyan heritage, for the positive transformation of the church and the world. It is one of 13 seminaries of The United Methodist Church, with an enrollment of nearly 500 students representing 40 denominations and more than 8,000 alumni worldwide.
---