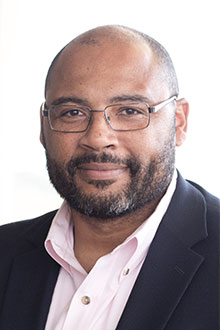 Exhibition curator Pellom McDaniels III.
Emory University will open a major exhibition, "Still Raising Hell: The Art, Activism, and Archives of Camille Billops and James V. Hatch," drawn from the Camille J. Billops and James V. Hatch archives in the Stuart A. Rose Manuscript, Archives, and Rare Book Library at Emory University, beginning Sept. 15.
The exhibition, which will be on display in the Schatten Gallery of Emory's Robert W. Woodruff Library, will explore themes related to creativity, social justice and community through archival practices and the production of art. Related public events will be added to the Woodruff Library calendar webpage by early September.
Widely considered to be one of the most important collections of materials related to 20th-century African American theater, art history, and African American artists, the Billops-Hatch archives are long overdue for public exploration, according to exhibition curator Pellom McDaniels III, who also is the curator of the Rose Library's African American collections.
"For more than 50 years, Camille Billops and James Hatch have been stewards of African American history and memory," McDaniels says. "This exhibition accounts for their tremendous efforts to preserve materials related to the development of the arts as a form of expression, and as a medium for speaking truth to power for African Americans. The exhibition also explores the lives and careers of Billops and Hatch, and their relationships with artists such as Owen Dodson, Benny Andrews, Norman Lewis, Vivian Browne and Faith Ringgold."
About the archives
The Camille Billops and James V. Hatch archives include more than 1,000 African American-authored published and unpublished play scripts (back to 1879), hundreds of theater programs, ephemera and more than 1,500 audio and video interviews conducted with artists, writers, poets and others involved in creative endeavors.
Billops, a filmmaker, artist and activist, and Hatch, an author and theater historian, are a couple who have collected these materials over the last 50 years and have donated a significant portion of their Hatch-Billops Archives in New York City to Emory University starting in 2002. With its home in the Rose Library, the collection is accessible to students, faculty, researchers and the public.
Billops-Hatch exhibition
Among the featured items in the exhibition will be photographs, books, original artwork, play scripts, theater posters, exhibition programs and related ephemera. A selection of audio and video interviews Billops conducted for Artist and Influence, a journal of black American cultural history published by the Hatch-Billops Archives from 1981-2012, will run on multimedia kiosks in the exhibition. Additionally, a short documentary about Billops and Hatch will show continuously.
Many of the artists included in the Billops-Hatch exhibition have placed their papers with the Rose Library, including Gylbert Coker, Whitney J. LeBlanc, Walter A. Simon, Mildred Thompson, Ed Bullins, Owen Dodson, Paul Carter Harrison, Pearl Cleage, Delilah Jackson and Barbara and Carleton Molette.
The exhibition will address questions related to art and activism, as well as the importance of history and memory. Quotes from black artists such as Romare Bearden and Elizabeth Catlett will be featured, offering a variety of perspectives on the role of the artist in a world of changing possibilities. Portraits of artists such as writer James Baldwin, created by Atlanta artist Keef Cross, also will be featured.
An online exhibit will launch with the exhibition opening, with a link that will be posted at the Emory Libraries exhibitions page a week before the opening. An illustrated print catalog of materials from the Billops-Hatch archives, with a selection of essays by McDaniels and others, also will be available.
"Still Raising Hell: The Art, Activism, and Archives of Camille Billops and James V. Hatch" will be on view until May 14, 2017.
---