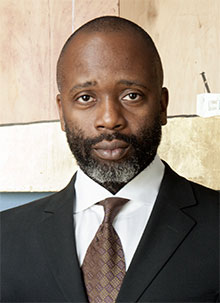 Artist and social activist Theaster Gates will return to Emory University in September for a series of talks on art and activism, hosted by the Stuart A. Rose Manuscript, Archives, and Rare Book Library. These programs would not be possible without the generous funding support from the Schwartz Artist in Residency Program.
Gates, an award-winning Chicago potter and artist who blends art installation with social practice, is best known for turning abandoned buildings in neglected neighborhoods into vibrant cultural hubs that serve the community. Gates is director of arts and public life at the University of Chicago, where he is a professor of visual arts.
"Theaster Gates embodies an engagement with art, activism, and archives that energizes all of us," says Rosemary M. Magee, director of the Rose Library. "It will be a privilege to have him present on campus during the month of September to collaborate with students, faculty and members of the Atlanta area community in pursuit of new knowledge and inspiration."
Free public events include:
Saturday, Sept. 3, at 3 p.m.
"'A Race of Artists': Examining Art and Social Activism," an ArtDBF panel with Theaster Gates and other multi-disciplinary artists, moderated by Christeene Alcosiba, Rose Library manager of operations and public programming, co-sponsored by ArtsATL.
First Baptist Decatur Sanctuary Stage
Decatur Book Festival in downtown Decatur
Friday, Sept. 9, at 4 p.m.
"Are Artists Activists?"
Theaster Gates conversation with Rose Library director Rosemary Magee
Teaching and Learning Studio, Rose Library
Emory's Woodruff Library, Level 10
Thursday, Sept. 22, at 7 p.m.
UPDATE: This event has been postponed and will be rescheduled for Spring 2017.
"Theaster Gates: Social Practice and Social Justice"
Theaster Gates closing presentation
Schwartz Center for the Performing Arts
1700 N. Decatur Rd., Atlanta 30322
---