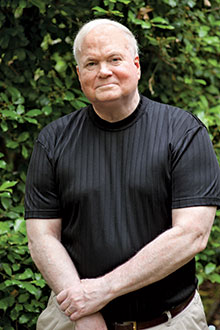 A diverse slate of Emory faculty, staff, students and alumni will take the stage this weekend at the 2016 AJC Decatur Book Festival, set for Sept. 2-4 at multiple venues.
Emory is a major sponsor of the festival, which features both an Emory track and an Emory School of Law track this year.
The event officially launches Friday with a celebration of the life and works of Southern literary icon Pat Conroy from 8-10 p.m. at Emory's Schwartz Center for the Performing Arts.
For those lucky enough to nab tickets, this year's keynote features a select gathering of Conroy's family and friends who will share special memories of the acclaimed author and read favorite passages from his many books.
Tribute participants include:
Cassandra King Conroy, his wife and author of five novels, including "Moonrise"
Pulitzer-Prize winning author Rick Bragg, whose memoir "All Over but the Shouting" was a New York Times bestseller
Artist and children's author Melissa Conroy, his daughter
Novelist Ron Rash, author of the 2009 PEN/Faulkner finalist novel, "Serena"
Bronwen Dickey, family friend, essayist and award-winning journalist
Celebrated as a master Southern storyteller and for his lush, poetic prose, Conroy created stories cultivated from the threads of his own life, from tales set in the scenic marshlands of coastal South Carolina, including "The Prince of Tides," to his own difficult childhood, as captured in "The Great Santini."
An enthusiastic participant and a popular mainstay of the Decatur Book Festival, he died of pancreatic cancer earlier this year at the age of 70.
The keynote event was filled to capacity a day after tickets became available.
"We always have great interest in our programming, especially the keynote, but Pat was such a presence at the festival that I get the sense that this year the interest among DBF fans is especially personal," DBF Founding Executive Director Daren Wang said in a press release.
Emory authors in the spotlight
Literature fans will find a packed schedule of events for the weekend festival, including lectures and book signings with hundreds of national and local authors, ranging from beloved bestsellers to new voices.
A range of Emory faculty, staff, students and alumni will be on hand to present readings or participate in panel discussions. Several faculty authors will also appear at the Center for Faculty Development and Excellence table in the Emory tent at the festival to meet readers and sign books.
The schedule for faculty signings in the Emory tent, located in spaces 700-703 near the intersection of Clairemont and West Ponce, is as follows. Click on their names for details about their festival presentations and panels, including times and locations. For the complete schedule of Emory alumni book signings in the main Emory tent, please visit here.
Saturday, Sept. 3
Sunday, Sept. 4
The Decatur Book Festival also includes these additional Emory faculty, staff and students, who will either speak on panels or read from their works. Again, click on their names for information about their presentations.
Other Emory faculty and staff members will introduce speakers or moderate discussions during the festival. For more information, check out the Emory track, the Emory School of Law track, and the full schedule for the Decatur Book Festival.
---