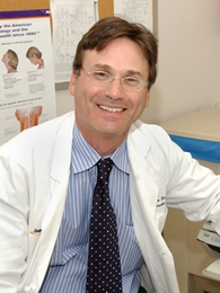 An international consortium of researchers from Project MinE, the largest-ever study of inherited amyotrophic lateral sclerosis (ALS), has identified a new ALS gene, named NEK1. Researchers and ALS associations from 15 countries, including Jonathan Glass, MD, director of the Emory ALS Center and professor of neurology and pathology at Emory University School of Medicine, collaborated on this genome-wide association study.
In an article published July 25 in Nature Genetics, the study authors present a total of six genetic regions that were found to increase the risk of ALS. A total of 15,156 patients with ALS and 26,224 healthy controls worldwide participated in the study.
ALS, also known as Lou Gehrig's Disease, is a progressive neurodegenerative disease that affects nerve cells in the brain and spinal cord.  Over time, people with ALS lose the ability to control muscle movement, leading to total paralysis and death. While 10 percent of ALS is familial, meaning it's genetic, the other 90 percent of cases are considered sporadic. However it's very likely that genetics contribute, directly or indirectly, to a much larger percentage of ALS cases. There is currently no cure for ALS.
By mapping the full DNA profiles of 1,861 individuals and combining this with a  "snapshot" of genetic data from the other participants, researchers were able to find six regions where genetic variations increase the risk of ALS.  Three of the regions were already known.
"One of the novel regions included a gene named NEK1. This gene was subsequently shown to harbor rare mutations that directly increase ALS risk. This makes the NEK1 gene extremely interesting for future studies to shed light on the mechanisms that lead to ALS and possibly future therapeutic strategies," says co-lead of the study Jan Veldink, PhD, of the University Medical Center Utrecht in the Netherlands.
Project MinE originated in the Netherlands and includes researchers in the U.S., United Kingdom, Portugal, Ireland, Spain and Belgium. Funding for the U.S. portion of the genetic research program came from The ALS Association through donations raised during The ALS Ice Bucket Challenge.
"Thanks to the ALS Association funding, researchers here in the U.S. were able to collaborate with other scientists around the world all working toward the goal of finding the causes of ALS," says Glass. "This is an important discovery and provides a new target for development of future treatments."
About the Emory ALS Center
The Emory ALS Center is dedicated to performing cutting edge research while providing comprehensive care for people and families with ALS and related motor neuron diseases. To find out more about ALS research at Emory, please visit http://als.emory.edu.
---