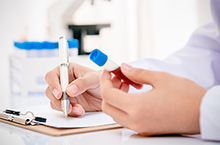 In a Perspective article in the New England Journal of Medicine, a group of physicians focused on global health calls for a new Model List of Essential Diagnostics (EDL). This list of diagnostic tests would work in concert with the Model List of Essential Medicines (EML), which plays a central role in global health policy, availability and funding and is maintained by the World Health Organization.
"Diagnostic tests for a variety of diseases are not available in many countries. This is important as diagnosis of specific conditions is what should drive prescribing the medication, says Jeannette Guarner, MD, professor of pathology and laboratory medicine, Emory University School of Medicine, and one of the authors of the Perspective.
"Many countries use the EML to purchase medications, as this list is endorsed by the World Health Organization. If there was a similar list for tests, then countries could use the EDL to purchase the diagnostics to complement the medicines." 
The authors propose an EDL of 147 essential laboratory tests to match the EML, which has 300 core medicines. The tests would be considered essential for at least one of the following: diagnosing the condition for which the medicine is indicated, monitoring for efficacy, or monitoring for toxicity.
Diagnostic tests are "critical to the management of communicable and noncommunicable diseases, surveillance of emerging infectious threats such as the Ebola and Zika viruses, and the safe and rational use of EML medicines, including stewardship of antiinfective agents to reduce the likelihood of the development of microbial resistance," the authors say.
According to the article, in order to be effective, an official EDL would need to:
Incorporate diagnostic-specific criteria, such as diagnostic accuracy and the likelihood that a test would alter patient care and improve outcomes, and the amount of infrastructure and human resources required to perform it.
Address conditions that public health surveillance reveals to be important but for which the EML does not currently include medicines.
Strive to avoid some of the perceived shortcomings of the EML, such as more thorough evidence-based evaluation, transparency of the decision-making process, lack of conflict-of-interest statements by applicants, the inclusion of high-cost medicines, and country-specific regulatory hurdles.
The goal of an EDL would not be wholesale adoption by all laboratories or for all patients, but would represent tests that should be reasonably available for those who need them, through either point-of-care testing or as high-complexity tests in reference laboratories and through country-specific, tailored lists. say the authors.
The article does not make a specific recommendation about whether a model list would be best maintained by the WHO or by a nongovernmental organization.
The authors conclude:
"Wherever the list is housed, its existence would facilitate group purchasing to reduce costs and inspire development of logistical solutions for laboratory testing in resource-poor settings. We believe the world can no longer wait to have laboratory testing available to all clinicians. An EDL would clarify priorities for policymakers and encourage setting common goals regarding laboratory testing, paving the way toward improved health care delivery and ultimately better patient outcomes."
---