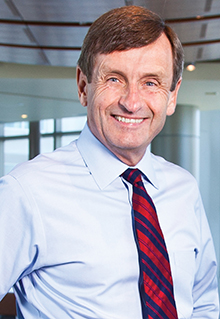 James Curran, MD, MPH, James W. Curran Dean of Public Health at the Rollins School of Public Health, Emory University will be featured on the CNN Original Series, "The Eighties" on Thursday, June 2nd at 9pm ET.
The segment titled, "The AIDS Crisis" takes a look back at the onset of the AIDS epidemic and the medical community's efforts to identify and eradicate the virus.
"All of us who saw patients in those days shared a sense of desperation as we saw more and more people become affected and there simply was no hope as they became ill," Curran says in the promo clip.
Dr. Curran is an adjunct professor of Medicine and Nursing, and co-director of the Emory Center for AIDS Research.  He is immediate past chair of the board on Population Health and Public Health Practice of the Institute of Medicine and served on the Executive Committee of the Association of Schools and Programs of Public Health. 
View the full promo clip here, http://www.cnn.com/videos/tv/2016/05/31/the-eighties-ep-6-the-fight-against-aids-1.cnn
---