Andrew Wilson will be the first to tell you that he wasn't what would be considered a top recruit for the Emory men's swimming and diving program. 
He was many other things, yes — nice kid, great student, earnest athlete. Coach Jon Howell could see that from the start.
As a high school junior, Wilson was among an eager wave of prep athletes to express an interest in joining Emory's award-winning swim program. Many were solid athletes who were simply posting times "a little outside our range," Howell acknowledges.
And yet, Howell liked Wilson, drawn in by a certain quality that he sensed more than he saw in their brief encounters. Call it a gut feeling. 
So he encouraged the young swimmer, gave him some target times to shoot for during his last year of high school.
"I'm a realist," Wilson says. " I wasn't surprised by it. I knew my times weren't very good — but I also knew I could be a lot faster."
And so he proved it. Within months, Wilson's times were accelerating. So when two swimmers Howell had been recruiting that year decided to go to other schools, he gave the earnest kid with the qualities that intrigued him a second look.
Likeable. Optimistic. Grateful. Driven.
Howell took a chance, gambling on a swimmer who knew how to set goals and chase them down, who sought balance between the pool and the classroom. A swimmer who simply believed in the power of the possible.
And has it ever paid off.
With only days to go before the 2016 Olympic swim trials — to be held June 26-July 3 in Omaha, Nebraska — the 22-year-old Emory senior is among the nation's top-ranked swimmers in the 100-meter breaststroke, recording the fastest time in a U.S. pool in 2016, and ranks sixth in the 200.
The top two swimmers in each event will qualify to swim for the U.S. Olympic Team in the 2016 Rio de Janeiro Olympics.
In fact, Wilson's time of 59.69 in the 100-meter breaststroke clocked at the U.S. Nationals last year officially makes him the 6th fastest American of all time in the event.
A performance for the record books
It's not a stretch to say that Wilson's breathtaking ascent has set the nation's swimming community on its ear.
His sub-minute 100-meter performance at the 2015 Phillips 66 USA Swimming National Championship last August earned him the title of "breakout breaststroke star of the Nationals" in Swimming World magazine, which noted his transformation from a Division III swimmer to an Olympic hopeful in less than five years.
After winning the national championship in the 100-meter breaststroke and placing third in the 200-meter breaststroke, he secured a spot on this year's USA Swimming National Team, with Howell named to the prestigious roster of national team coaches.
An article on Wilson in the Washington Post last month claims that he "is on the verge of doing something that would defy more than 40 years of swimming history." Should he make the final cut later this month, "it is believed he would become the first Division III swimmer to make the U.S. Olympic team since the NCAA split off into divisions in 1973," the article states. 
In many ways, it's a Cinderella story that comes as a surprise to almost everyone except Wilson, notes Coach Howell.
"He's always been very optimistic, setting really big goals for what he wanted to do with the sport," Howell explains. "Where he is now is not a huge shock to him because it's what he wanted to do from the beginning."
And while Howell has worked with many athletes who are committed to hard work, he's watched Wilson take that to the next level, fueled primarily by his optimism "and a sense of gratitude," he says.
"People think he just walked onto campus and took off running, but it was much more of a transition," Howell says. "He had to find his grounding, find his place, and feel comfortable."
For Wilson, part of that comes with striking a balance between his sport and his studies. "Swimming is not everything to him," Howell notes. "He carries a 3.96 GPA as a double major in physics and applied math — an achiever in everything he does.
"The intellectual part of his life is a big part of who he is," he adds. "He needs to have that piece in place to restore the balance."
Balancing the pool and the classroom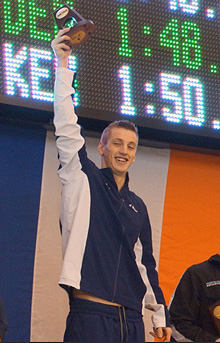 Andrew Wilson celebrates after winning the NCAA Division III Championship for the 200 individual medley. Photo courtesy Emory Athletics.
With a goal of making the U.S. Olympic team, Wilson made the decision to take a year off from his studies at Emory to prepare for this summer's trials.
For the past academic year, he's been training with Longhorn Aquatics at the University of Texas at Austin, one of the nation's top NCAA Division I programs. He plans to return to Emory this fall to complete studies for his final year of NCAA eligibility at Emory.
"I don't think I'm making outrageous claims to say this is the best and fastest training group in the world," Wilson says. "It's crazy to see what people do in practice on a random Tuesday."
Challenging practices pushed his body, but for Wilson, something was missing.
"I just do better with structure," he says. "And I do better in the pool and in the classroom when both of those pieces are working together."
"Last fall, I was focused on swimming and found I wasn't swimming very well — if I had a bad practice or meet, I would dwell on it," he explains. "I just do a lot better when I have something else to think about."
Wilson tried auditing a math class in Texas, but didn't find it engaging. That's where Emory professor Ken Ono entered the picture.
Ono, Asa Griggs Professor of Mathematics, has known Wilson since first appeared in his classroom three years ago — he still remembers the swimmer earning a perfect score on the final exam. Based upon his academic talent, he was invited into the mathematics honors program, where Ono has been helping him with number theory research for his upcoming senior thesis.
"He's just one of those special kids you form a bond with, a very cerebral guy who wants to engage his mind at a very high level academically," Ono says. "And the absolute role model of an Emory student athlete — in the top 2 percent in academics and defending U.S. champion in the 100 meter breaststroke."
So Ono offered to work with Wilson from afar — tutoring him in upper-level mathematics to keep his brain busy outside the pool. And it worked. By using math to help with mental conditioning, his athletic performance improved.
"He's almost finished the equivalent of a whole year of graduate algebra working with me by Skype," Ono says. "He's not earning any credit, he just loves the work."
Eyes on the Olympic trials 
By some measures, Wilson didn't consider himself a serious swimmer until he came to Emory.
From playing at the neighborhood pool in Bethesda, Maryland, Wilson advanced to summer league swimming, then swimming for Phillips Academy, a high school boarding school in Andover, Massachusetts, that required participation in a sport each term. Wilson tried something different every semester — water polo in the fall, swim in the winter, lacrosse in the spring.
"I didn't start swimming year-round until I got to Emory," he says. "Throughout that first fall semester it was abundantly clear that I was one of the slowest — if not the slowest —on the team."
But Wilson likes setting goals. His first year, he wanted to make the NCAA nationals and score at the meet. He came in fourth in the 100 breaststroke and seventh in the 200. By his sophomore year, he was on medley relays that won at the Division III NCAA finals. "My goals progressed as my swimming progressed," he acknowledges.
Although the idea of swimming in the Olympics had been a distant childhood dream, seeing his older sister, Jenny — who swam for Northwestern University — qualify for the 2012 Olympic trials in the breaststroke put things into perspective.
Wilson set new goals. This month, he's seeing them unfold before his eyes.
"A chance to make the Olympic team? It's literally something out of my dreams to be in the position I am in now — it's unbelievable," he says. "I have so much respect for Coach Howell, as a coach and a person, for helping me get here."
---