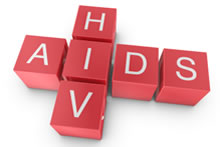 Emory School of Medicine and Rollins School of Public Health faculty played a significant role in the Fulton County Task Force on HIV/AIDS Phase II update: Objectives and Actions on "The Strategy to End AIDS in Fulton County."
The new phase of the strategy was announced Monday, June 27, at the Center for Civil and Human Rights in Atlanta, with more than 100 community members in attendance. Fulton County Chairman John H. Eaves and Commissioner Joan P. Garner welcomed Congressman John Lewis at the rollout event.
Co-chairs of the Task Force, Wendy Armstrong, MD, professor of medicine (infectious diseases) at Emory University School of Medicine and medical director of the Infectious Disease Program of the Grady Health System, and Daniel Driffin, prevention specialist at National AIDS Education & Services for Minorities (NAESM) presented the new recommendations along with other members of the Task Force.
The strategy reflects broad-based community input, including individuals living with and affected by HIV, as well as HIV care providers, epidemiologists, community workers, advocates and public health officials. The document includes recommendations for prevention strategies and delivery of care, but also addresses many of the social determinants of health related to HIV and AIDS.
 "This document represents an important step forward in developing a blueprint with policy initiatives to end AIDS in Fulton County," says Armstrong. "We are at an exciting time when we have both bold political leadership and an engaged community and we believe we are poised to turn the tide on this epidemic in our county, and we hope, in our city and in our region as well."
In December 2014, Chairman Eaves and Commissioner Garner established the Fulton County HIV Task Force to make recommendations for preventing HIV and improving access to care. The Task Force has made a number of recommendations to improve outcomes for HIV prevention and treatment, as well as supportive services.
New recommendations focus on four overall goals: reducing new HIV infections; increasing access to care and improving health outcomes for people living with HIV; reducing HIV-related disparities and health inequities; and achieving a more coordinated response to the epidemic.
The Task Force identified ten priorities to meet these goals which include:
Eliminate stigma and discrimination associated with HIV, sexual orientation, gender identity and expression, race/ethnicity, gender, socioeconomic status, and mental health and substance use disorders from our healthcare settings, faith communities, educational institutions, government institutions, media coverage, and from all policies and laws.
Re-focus HIV services and care systems on the holistic needs of those being served to create compassionate environments that are culturally competent, customer service-oriented and where meaningful patient feedback matters.
Eliminate health system barriers that make it difficult to get into care, stay in care, access life-saving medications, and reduce the virus to undetectable levels.
Provide free, routine opt-out HIV testing in all healthcare settings and jails, and coordinate targeted (or risk-based) HIV testing so that people at highest risk of infection always have easy access to free, safe, and confidential screening.
Provide PrEP/PEP for people without HIV, syringe services for injection drug users regardless of HIV status, immediate access to HIV treatment for PLWHIV, and condoms and lubricants for all.
Link pregnant women to prenatal care, test all pregnant women for HIV, and treat all HIV positive pregnant women with ART to ensure that no babies are born HIV positive.
Require scientifically accurate, evidence-based HIV and sexual health education in schools so that youth learn skills to protect themselves against HIV and other sexually transmitted infections, and pregnancy.
Provide immediate, barrier-free access to housing for people living with HIV (PLWHIV) who are unstably housed.
Expand access to mental health and substance use services to prevent HIV transmission and improve care continuum outcomes.
Close the current coverage gap that denies too many PLWHIV private insurance or Medicaid, advocate for adequate federal funding for HIV care and prevention, and reform HIV criminalization laws to further destigmatize HIV.
Each goal includes more detailed policy recommendations.
Emory contributors and advisers to the Task Force include Jonathan Colasanti, Carlos del Rio, Eugene Farber, Neela Goswami, Vincent Marconi, Susan Ray, David Holland, Andres Camacho-Gonzalez , and Anne Spaulding. The Emory Center for AIDS Research has been a partner with Fulton County in this process, as addressing the local HIV/AIDS epidemic is now a major priority of the Emory CFAR.
For more information, see the following documents:
---