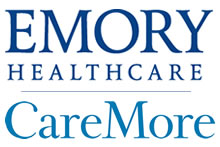 Leaders from Atlanta-based Emory Healthcare and California-based CareMore highlight their experiences in coming together to deliver a new population-based payment model for older adults. The article, published in NEJM (New England Journal of Medicine) Catalyst on April 28, 2016, discusses early results from the collaboration, as well as some of the obstacles faced.
The article, titled "One Path to Value-Based Care for Academic Health Systems," is authored by Michael M.E. Johns, MD, emeritus president, chief executive officer and chairman of the board, Emory Healthcare; Jonathan S. Lewin, MD, president, chief executive officer, and chairman of the board, Emory Healthcare and Sachin H. Jain, MD, president, CareMore Health System.
In August 2014, Emory Healthcare decided to move toward population-based payment for seniors by collaborating with CareMore, an innovative health plan and coordinated care delivery system. More than 13,500 older adult patients have enrolled in the coordinated care program, called the Emory Healthcare Network Advantage. The network currently includes members from three different insurance companies, who are Medicare Advantage enrollees.
Two Emory Coordinated Care Centers opened in 2015 and are available to Emory's Medicare Advantage patients who have an Emory primary care physician. The centers provide health care solutions for the complex problems of aging.
"The Emory Healthcare Network Advantage model was designed to focus specifically on older adults who have, or are at risk for developing chronic conditions such as diabetes, congestive heart failure and lung disease," says Emory's Lewin. "Because of the population-based model of risk-adjusted prepayment and 100 percent shared risk, comprehensive clinical services and coordinated inpatient and outpatient care can be offered to our most vulnerable patients within the Medicare Advantage population."
Early results from the collaboration have shown the following:
Primary care capacity has increased because PCP (primary care physician) practices have fewer administrative responsibilities, making more time available for patients' acute visits to their PCPs.
Hospital readmission rates for patients who are enrolled in the shared-savings plan and who have been seen by an extensivist physician have decreased. (An extensivist is a physician who works in both the outpatient and inpatient setting to provide comprehensive and coordinated care to patients with complex medical issues.)
Having a single operating model for all Medicare patients, rather than unique models for each Medicare Advantage payer and for traditional Medicare, has simplified processes for primary- and specialty-care physicians.
"CareMore has an unwavering commitment to transforming health care delivery by providing outstanding chronic disease management to high-cost, high-need patients," says Jain, CareMore's president. "Over the last two years, CareMore has moved beyond its Medicare Advantage delivery system and plan to other means of serving high-cost, high-need patients, including enabling like-minded organizations. Foremost among these organizations is Emory Healthcare, an academic medical center with a unique commitment to advancing high-value care." 
Jain goes on to say, "We have worked to translate the CareMore model to the Emory Healthcare system to help Emory deliver a lower-cost, higher quality experience for its chronically ill older patients -- the population who needs it the most."
The authors also discuss challenges they have encountered in launching the program, including acquiring sales and marketing expertise and acquainting providers with a model different from fee-for-service.
Emory expects to gradually move more patients into managed Medicare products.
NEJM Catalyst is a new forum for health care executives, clinician leaders and clinicians focused on innovative ideas and practical applications for enhancing the value of health care delivery.
---