The Atlanta Hawks Basketball Club and Emory Healthcare today announced plans to partner and build a first-of-its-kind training and sports medicine center on Executive Park Drive in Brookhaven, which will serve as the team's official practice site. The privately funded facility will feature the most advanced technology in sports medicine and athletic care built within a state-of-the-art training center with amenities.
The team expects to break ground this summer on the 90,000-square foot facility and the Hawks Basketball Operations Department will be housed in the facility upon its completion.
In addition to the naming rights entitlement of the training and sports medicine facility, Emory will become the official sports medicine provider of the team. Emory Healthcare and the Emory Healthcare Network comprise the most comprehensive health system in Georgia, and Emory University is one of the nation's leading academic medical centers.  
"Emory Healthcare has built outstanding orthopaedics services over the past decade and we are excited to continue to grow this area and work closely with the Atlanta Hawks," says Jonathan S. Lewin, MD, FACR, president, CEO and chairman of the Board of Emory Healthcare. "Delivering on-site care not only will enable us to provide faster care to Hawks players, but also will enhance our ability to conduct sports performance research and translate what we learn to all athletes both professional and recreational."
"When we became owners, one of our top priorities was to provide the resources necessary to build a world-class training facility—a key element of being a first-class franchise and elite basketball program. We are thrilled with this partnership that Steve and Bud have forged with Emory in developing a new facility that will revolutionize how other NBA teams approach integrating sports medical technology within their own basketball training centers," Principal Owner Tony Ressler said. "The ability to partner with a local institution in Emory, which is a worldwide leader in the medical community and shares our vision and passion for excellence and enriching Atlanta, is particularly exciting. In addition, we are proud that this facility will go beyond benefitting just our players, but will also be a valuable sports medicine resource available to the entire community."
The Hawks new facility will be the first in the NBA to be co-located with an entire sports medicine center, allowing for expert and immediate treatment and on-site access to state-of-the-art equipment such as a 3 Tesla MRI scanner, which provides the best quality and fastest diagnosis for soft tissue and bone bruise injuries. Emory will utilize roughly 30,000-square feet to offer the most comprehensive in preventative and rehabilitative treatment and sports performance training. The entire roster of doctors, surgeons and specialists from Emory's current Sports Medicine Center will also make Brookhaven its permanent home and treat patients inside the new facility.
Offerings are set to include 3D motion capture, force plates to measure joint stress and on-site blood/sweat testing and analysis for nutritional deficits and markers vital for the creation of individualized health and recovery plans. A fully dedicated recovery area including cryotherapy, sensory deprivation tanks and in-ground hydrotherapy will also be on-site. Additionally, all non-sports orthopaedic specialties will be located two blocks away at The Emory Orthopaedics & Spine Center.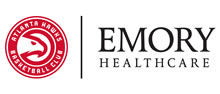 "We are fortunate to have found a perfect partner in Emory. Its outstanding reputation, commitment to providing unparalleled healthcare and dedication to being innovative in its practice fits the ideals of our brand," Hawks CEO Steve Koonin said. "The development of this facility is another example of how Tony Ressler, Grant Hill and our ownership team have very quickly begun to implement their vision and provide the resources necessary to make our organization an industry leader."
"This strategic partnership will enable two outstanding organizations to create a new vision for sports medicine care and research for athletes at the highest levels of their game and translate this knowledge to our college, high school, and weekend athletes," said Scott D. Boden, MD, Director of the Emory Orthopaedics & Spine Center and Chief Medical Officer of the Emory University Orthopaedics & Spine Hospital. "The addition of P3, the world renowned leader in peak performance enhancement, will make our facility and the city of Atlanta a destination for the most elite of athletes."
"We place a great emphasis within our basketball program on player development, and the improvement of each player within our system is critical to our team's collective success. The foundation of that development is ensuring the peak health and conditioning of our players and providing each of them with the coaching, resources and environment to develop to the best of their ability," President of Basketball Operations/Head Coach Mike Budenholzer said. "Partnering with Emory and having P3 in our building will allow us to maximize the talent of our players, coaches and basketball operations staff while providing the best treatment and care possible."
---