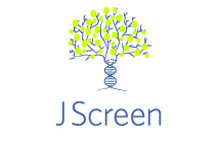 Genetic carrier screening conducted before couples conceive a child allows them to most effectively plan for the health of their future families. However, testing laboratories report that up to 90 percent of genetic carrier screens not originating in fertility clinics are performed on patients who are already pregnant.
The JScreen program, based out of Emory University School of Medicine, was launched in 2013 with the goal of raising public awareness about preconception screening and providing convenient and affordable at-home screening. JScreen is a saliva-based test accessible 24/7 from anywhere in the U.S. Genetic counselors from JScreen and participants' local physicians are involved throughout the process.
JScreen co-directors Patricia Page and Karen Grinzaid, speaking at the American College of Medical Genetics and Genomics annual meeting, highlighted the process for participants to obtain a screening kit and get results:
"Since a large percentage of Jewish young adults are not affiliated with a synagogue or other Jewish organization, we needed to use special tactics to reach this population," says Karen Grinzaid, JScreen co-director. "Our efforts have included digital marketing and an extensive social media campaign; networking with more than 1,000 organizations, rabbis and other influencers to reach both the unaffiliated and affiliated Jewish community; and community-based awareness and screening events."
JScreen's marketing and outreach efforts have been increasingly effective in reaching the preconception population. Although JScreen started as a Southeastern U.S. initiative, it is now a national program, and screening kits have been requested from people in all 50 states. JScreen has screened approximately 4,000 individuals and couples of reproductive age and has identified 150 at-risk couples. Approximately 94 percent of JScreen participants or their partners are not yet pregnant.
"We hope our success can lead to a next step of incorporating information about JScreen into OB/Gyn well visits to further encourage early screening," says Tricia Page, JScreen co-director.
Individuals or couples may request a screening kit and obtain information about the screening and counseling process at www.jscreen.org.
---