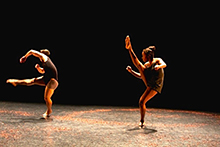 Emory's performance of "Moat," choreographed by George Staib, was selected first alternate to perform at the 2016 National College Dance Festival.
Emory Dance hosted the American College Dance Association's Southeast conference March 9-12.
Over 30 class choices were offered every day, including ballet, modern, yoga, "Rhythm in Martial Arts," freestyle poling, African dance, Indian classical dance, jazz, musical theater dance, tap, improvisation, movement therapy, and more.
Students attended four adjudicated concerts featuring a total of 42 works, as well as informal concerts, dance film presentations and research presentations. The conference ended with a gala concert at Georgia Tech's Ferst Center.
At the conference, two dances were selected for invitations to perform at the 2016 National College Dance Festival. The two chosen performances were from Coker College and Florida State University, while an Emory dance was named first alternate.
Titled "Moat," the Emory performance was choreographed by George Staib. "This work occurs in a space defined by motivated spontaneity, charged by a communally explored sense of place and animated by an element of texture and sensation that is engaged with unending inventiveness," the adjudicators noted.
Photos by Lori Teague.
---