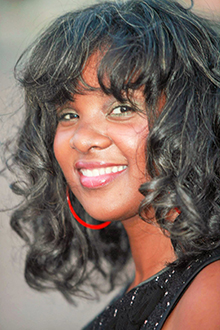 Rasheeta D. Chandler, PhD, MSN, assistant professor at the Nell Hodgson Woodruff School of Nursing at Emory University has been named one of the 40 Under 40 Leaders in Health Care by the National Minority Quality Forum.
The award honors influential young African-American leaders in medicine, pharmacy, dentistry, nursing, research, and policy, who are making a difference in health care. Chandler will be inducted at the Congressional Black Caucus Spring Health Braintrust Gala in Washington, DC.
"Dr. Chandler is extremely deserving of this prestigious recognition," says Linda McCauley, RN, PhD, dean and professor of the Nell Hodgson Woodruff School of Nursing. "She is a proven leader and a pioneer in the area of sexual health interventions for young African-American women.  I am confident that her research will continue to create innovations and strides in this area."
Chandler's research has generated new knowledge and clinically relevant strategies for improving health education for African-American women by incorporating social media and digital technologies into the health education process. She has been recognized for her contributions to minority health and nursing as a fellow of Brown University's Initiative on HIV and AIDS Clinical Research for Disadvantaged Communities. She is also the recipient of the Early Career Reviewer Award by the National Institutes of Health Center for Scientific Review. In 2015 she received the Outstanding Young Alumnus Award from the University of South Florida.
---