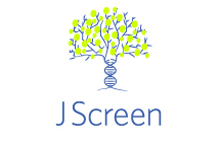 JScreen recently conducted a three-day event that screened nearly 1,200 students and members of the broader New York City community for diseases common in the Jewish community.
The JScreen team and  Yeshiva University's Student Medical Ethics Society, which helped promote the event, emphasized that genetic carrier screening is key to helping people know their genetic risks and plan ahead for the health of their future families.
JScreen is a nonprofit, nationally available program, based out of Emory University's Department of Human Genetics. The program specializes in carrier screening and genetic counseling for more than 100 genetic diseases, many of which are common in the Ashkenazi, Mizrahi, and Sephardic Jewish communities.
"Young Jewish couples are at risk for having children with devastating genetic diseases, but the majority of young Jewish men and women have not been screened," says Karen Arnovitz Grinzaid, senior director of JScreen. "The Jewish Genetic Disease Consortium confirmed that the Yeshiva University event was the largest screening event since the community-wide Tay-Sachs screenings in the 1970s and 80s."
JScreen is a simple, saliva-based test. In addition to on-site screening events, such as the one at Yeshiva University, JScreen participants are able to request screening kits online. The kits are mailed directly to participants' homes, and returned through the mail. JScreen makes testing affordable at $99 for those with private insurance.
JScreen differs from many online genetic testing services in that it has the oversight of an academic genetics program, and people who are identified as carriers receive follow-up counseling by phone or video conferencing.
"Aside from getting a massive portion of the student body screened, we were able to reach YU alumni. Most importantly, we were able to screen people who are already married and have never been tested. I am so proud of the work that we have done and cannot even begin to imagine the impact that we made," says Rebecca Garber, co-president of the Medical Ethics Society of Yeshiva University.
Leading faculty and rabbis at Yeshiva University also endorsed the event and encouraged screening.
"Testing gives students the knowledge to make informed decisions that can diminish pain and suffering within our community. We encourage students to get tested and to speak to a trained genetic counselor." says Rabbi Kenneth Brander, vice president for university and community life at Yeshiva University.
"The impact of JScreen's work on the lives on these students was tremendous," says Hillary Kener, assistant director of national outreach for JScreen."Our initiative shouldn't stop there, but continue to students' family members and friends across the country. That's the mission of JScreen – to create access and awareness for everyone."
To learn more, get involved, or to request a screening kit 24/7, visit JScreen.org.
---