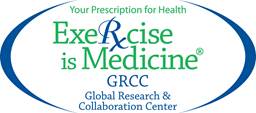 Some of the nation's largest fitness organizations announced an innovative partnership to integrate the world of fitness with the world of health care.  The Exercise is Medicine Global Research and Collaboration Center (EIM-GRCC), housed in The Hubert Department of Global Health at Emory's Rollins School of Public Health (RSPH), will play a key role in the evaluation of this partnership.
The American College of Sports Medicine (ACSM), in collaboration with RSPH, established the EIM-GRCC in 2015.  The center is part of ACSM's global initiative aimed at integrating physical activity as a vital sign and a routine component of health care system efforts for population health management and the prevention of chronic diseases. The EIM program standardizes the process of connecting patients to a trusted network of local evidence-based physical activity and behavior change programs led by qualified fitness professionals. 
The EIM-GRCC is the academic hub in charge of leading the evaluation of the EIM initiative, in collaboration with partnering health care systems, community organizations, and fitness and technology companies. Led by Felipe Lobelo, MD, PhD, associate professor in the Hubert Department of Global Health at Rollins School of Public Health, the center leverages the expertise of leading researchers, clinicians and exercise professionals at Emory and globally.
Physical inactivity is a leading cause of poor health, mortality and higher health care costs in the US and throughout the world, says Lobelo who is also an EIM advisory board member. "Too few health systems and health care providers routinely include physical activity as part of their patient's treatment plans. Our goal is to elevate the status of physical activity so that it becomes a standard in healthcare. If we truly believe that exercise is indeed medicine, then physical activity-related care needs to be standardized, from patient activity assessments, to counseling and referrals to community resources, just as other medical therapies and interventions are standardized."
A major objective of the EIM-GRCC is capacity building for health care providers and exercise professionals. The first EIM credential workshop of several planned for 2016 was held for more than 50 exercise professionals in Atlanta last weekend.
"The center will continue developing strategies and partnerships that expand the reach of the EIM global health initiative," says Lobelo.  "Our mission is to test the real-life effectiveness of clinical-community linkages to prevent, manage and reverse the progression of chronic diseases trough increased physical activity."
More information about the EIM-GRCC and training workshops is available here.
---