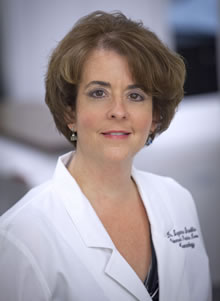 Suzanne L. Staebler, DNP, FAANP, associate professor at the Nell Hodgson Woodruff School of Nursing at Emory University, was elected to serve as president of The National Certification Corporation (NCC),  a non-profit organization that provides a national credentialing program for nurses, physicians and other licensed health care professionals. As NCC's new president, Staebler will lead efforts that contribute to the organization's mission of promoting quality healthcare to women, neonates and their families.
Recognized as a clinician, advocate, and national leader in the field of neonatal advanced practice nursing, Staebler has become a pioneer in neonatology through her leadership guiding policy development and implementation at both nursing and advanced practice nursing levels. In addition to her role as NCC president, she is also the liaison for the neonatal nurse practitioner certification exam content team with NCC.
"I am honored to lead such an outstanding and worthwhile organization," says Staebler. "I applaud NCC's emphasis and commitment to the advancement of health care professionals in some of the most vital specialty areas."
Staebler is the 2011 recipient of the Distinguished Service Award from the National Association of Neonatal Nurse Practitioners (NANNP) and was inducted as a fellow into the American Academy of Nurse Practitioners in 2014.  She was awarded the American Association of Nurse Practitioners Georgia Nurse Practitioner Advocate of the Year Award for 2015 and the Neonatal Nurse Practitioner Excellence Award by NANNP in October, 2015.
---