Todd Sherer, PhD, associate vice president and executive director of the Emory University Office of Technology Transfer, and Daniel White, president and CEO of Clearside Biomedical, Inc., an Emory startup company, will receive the 2016 Georgia Bio Industry Growth Awards.
The Industry Growth Awards are the highest honors bestowed each year by Georgia Bio. They recognize individuals in the public and private sectors who have made extraordinary contributions to the growth of Georgia's life sciences industry.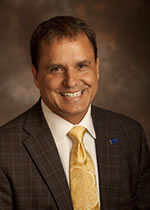 Todd Sherer
Kevin Lei, CLP, director of faculty & start-up services in Emory's Tech Transfer Office, will receive a Georgia Bio Community Award. He is recognized for his tireless support of Emory faculty, entrepreneurs and their companies.
The Georgia Bio Annual Awards Dinner will be held Jan. 28, 2016, from 6 to 9 p.m., at the Fox Theater. Other leading companies, executives, researchers and dedicated individuals will receive Georgia Bio Awards.
Todd Sherer is being honored for his transformational contribution to technology transfer by finding new ways to create value in university technology. He has led Emory University's Office of Technology Transfer for more than 10 years, expanding it into a leading a program with national prominence. His leadership resulted in multiple record-setting years in licensing revenues, licensing agreements and start-ups. Sherer's efforts have not only benefited Emory University, but also the broader Atlanta and Georgia bioscience communities.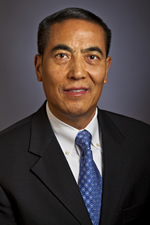 Kevin Lei
Sherer has worked in academic technology transfer for nearly three decades at public and private universities on both coasts. Sherer is past president of the Association of University Technology Managers (AUTM) and vice chair for Southeast BIO. Before coming to Emory, he was director of the Office of Technology and Research Collaborations at Oregon Health & Science University in Portland.
While at Emory, Sherer has developed a strategy to attract crucial support by focusing on the university's world-class product pipeline driven by the success of its licensees. Emory continues to be one of a handful of universities with an in-house patent division focused on drafting, filing, and prosecuting un-licensed technology. The office oversees a $600,000 proof-of-concept fund to prepare technologies for patent, license or larger funds.
Daniel White is being honored as the leader of Clearside Biomedical, Inc., an innovative startup ophthalmology pharmaceutical company initially based on intellectual property discovered at Emory and Georgia Tech. Within four years the company has raised over $50 million and entered phase 3 pivotal testing on its lead program. Clearside's SCS™ microinjection system is being applied to a number of innovative first-in-class drug therapies to treat blinding diseases of the eye.
Kevin Lei, in his 19 years at Emory, has held positions as licensing associate, senior licensing associate, assistant director, associate director, and director of Emory's VentureLab. He previously was employed in both the academic and industrial sectors, including as a bench scientist, operations manager of a biotech incubator, founding president of a biotech start-up, and R&D manager of a Georgia-based biotech company.
Learn about the awards ceremony and register at www.gabio.org/awards.

For a list of past Georgia Bio Industry Growth Award recipients, view a PDF.
Abou Georgia Bio
Georgia Bio (www.gabio.org) is the state's life science industry association whose members include pharmaceutical, biotechnology and medical device companies, medical centers, universities and research institutes, government groups and other business organizations involved in the development of life sciences related products and services.
---