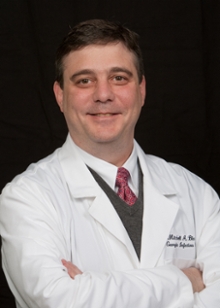 Emory Saint Joseph's Hospital infectious disease physician Mitchell Blass, MD, was featured on a recent episode of the Animal Planet program "Monsters Inside Me," a television series that retells the real-life dramas of people infected by unusual parasites and the doctors that save their lives.
During the program, Blass describes the mysterious case of his patient Christian Griffith, whom he successfully treated at Emory Saint Joseph's for entamoeba histolytica, the second deadliest parasite in the world.
Griffith, an ultra marathoner who regularly competes in 50-100 mile races around the world, became ill with a fever, headache and chest pains after returning from a race in Nicaragua.
The Atlanta resident believed he was suffering from a heart attack, but a CT scan pointed to another mysterious illness after a large mass was discovered on his liver.
"The mass in Christian's liver was the size of a softball and threatening his life," says Blass about the diagnosis of entamoeba histolytica. This parasite is commonly found in tropical areas and exists as cysts in contaminated food and water. When the cysts are swallowed, they are passed through the intestines, and continue to the liver, ingesting cells until the liver is liquefied. Approximately 100,000 people around the world die from this deadly parasite each year, but Griffith's life was saved after emergency surgery at Emory Saint Joseph's.
To watch the episode of "Monsters Inside Me" featuring Blass chronicling this unusual case, visit the Animal Planet web site
---