From Vietnam to Desert Storm to Afghanistan, Winship Cancer Institute physicians, nurses and other staff have honorably served our country. In a series of feature photos, the cancer center at Emory University salutes and thanks them for their commitment, courage and compassion.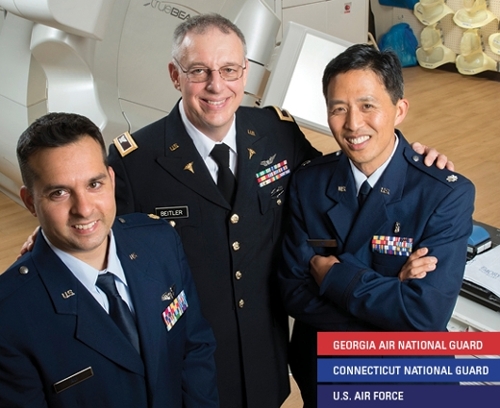 Above: Winship's radiation oncology department is full of medical heroes, but three doctors stand out for their service to our country. Arif Ali is a Major in the Georgia Air National Guard with 14 years of service, Jonathan Beitler is a Colonel in the Connecticut National Guard with 32 years of service, and Trevor Lim is a Lt. Colonel in the U.S. Air Force with 17 years of service.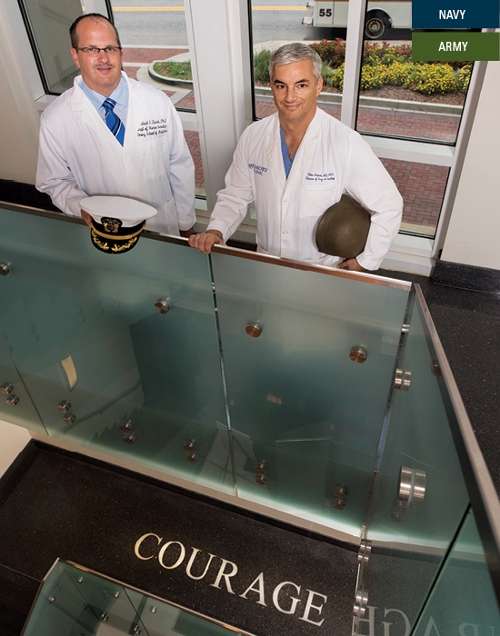 Above: The word courage has special meaning for newly retired military officers Michael Zwick (left) and Cletus Arciero (right). Zwick, director of the Emory Integrated Genomics Core, served in the Navy for 25 years and retired as a Commander and surface warfare officer. Arciero, a surgical oncologist specializing in breast cancer and melanoma, served in the Army for 25 years and retired as a Colonel and chief of General Surgery at the Eisenhower Army Medical Center at Fort Gordon, Georgia.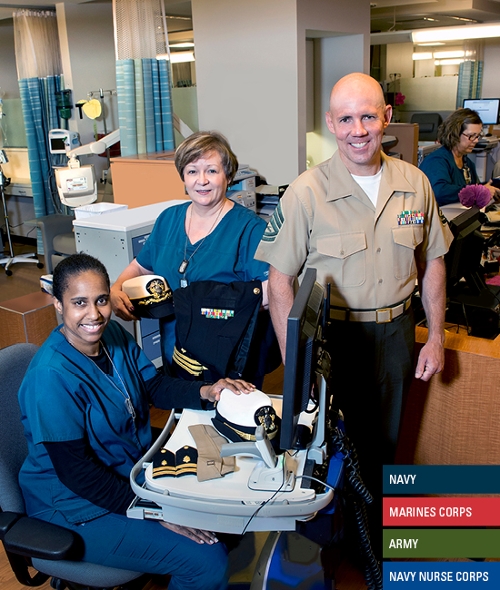 Above: Commitment is second nature for Lisa Anderson, Andrew West and Deatra Perkins. They've served oncology patients and their country for years. Anderson, an oncology nurse at Emory Saint Joseph's Hospital, retired from the Navy after 12 years as a nurse; West, senior director for ACTSI (Atlanta Clinical & Translational Science Institute) is an active duty gunnery sergeant in the Marines; Perkins, a Winship oncology nurse in the infusion center, served first in the Army and then became a commissioned officer in the Navy Nurse Corps.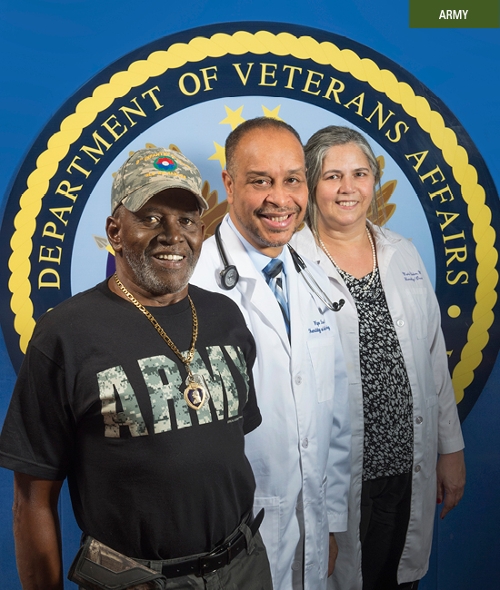 Milton Reaves earned a Purple Heart while serving as an Army Specialist in Vietnam. He credits Winship's Wayne Harris with helping him to win his latest battle against prostate cancer. The two are pictured with Hematology and Oncology Section Chief Maria Ribeiro at the Atlanta VA Medical Center where Winship doctors see about 875 veterans every year.
---
Additional Military Staff at Winship Cancer Institute
Arif Ali, MD, MS (Georgia Air National Guard)
Lisa Anderson, NP, (U.S. Navy Reserve)
Cletus Arciero, MD (U.S. Army)
Jonathan J. Beitler, MD, MBA (U.S. Army)
Mark Bice, RN (U.S. Army)
James W. Curran, MD, MPH (U.S. Public Health Service)
Alicia Escobar (U.S. Army)
David Lawson, MD (U.S. Army)
Trevor D. Lim, MD, (U.S. Air Force)
Deatra Perkins, RN (U.S. Navy Reserve)
Kathleen Rodger, RN, BSN, MS (U.S. Army)
Peter Rossi, MD (U.S. Navy Reserve)
Andrew West, MBA (U.S. Marine Corps Reserve)
Steven Zanardo (U.S. Army)
Michael Zwick, PhD (U.S. Navy)
If you would like your name added to this list of veterans, please email judy.fortin@emory.edu.
Emory Physicians at VA Atlanta Medical Center
Ana Antun, MD
Shipra Arya, MD
Luke Packard Brewster, MD
Suephy Chen, MD
Laronna Colbert, MD
Scott Edelman, MD
Felix Fernandez, MD
Christopher Filson, MD, MS
Wayne Harris, MD
Bruce Hershatter, MD
Matthew Hiro, MD
Muta Issa, MD, MBA
Duc Nguyen, MD
Susmita Parashar, MD
Ankit Patel, MD
John Petros, MD
Maria Ribeiro, MD
Chad Ritenour, MD
Manu Sancheti, MD
Ashley Slappy, MD
Charles Staley, MD
Jerry Sullivan, MD
David Vega, MD
Mark Walsh, MD
Joshua Winer, MD 
---