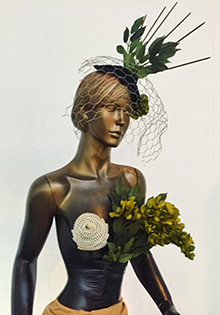 "In Progess" by Megan Watters.
Walking into the Emory Visual Arts Gallery, visitors are greeted by a lavish tableau of rich greens and yellows, autumn crops and water basins, all centered around a mannequin dressed in flowing earth-colored fabrics.
She is the "eternal mother," and one of five compositions designed by Emory College alumna Megan Watters as part of her new exhibition and performance piece "And She Was: The Female Experience Explored and Celebrated." Watters, who graduated from Emory College in 2011, returns to campus as a Schwartz Artist-in-Residence sponsored by the newly founded Integrated Visual Arts Co-Major (IVAC).
"And She Was" opens at 8 p.m. each evening starting Thursday, Nov. 19, and running through Saturday, Nov. 21, in the Visual Arts Building (700 Peavine Creek Drive). The event is free and open to the public as part of the Donna and Marvin Schwartz Foundation Artist in Residence Series. Performances occur continually throughout the evening.
The exhibit is a mixed media gallery event focusing on the diverse female experience through the eyes and ears of a team of female artists led by Watters. Watters, along with Blaire Hillman of the Atlanta-based experimental theater The Object Group, has spent the last month exploring concepts related to femininity through music, literature, fine art and performance art in a workshop and rehearsal sessions with Emory College students.
As a result of this collaborative process, Watters's compositions have become the enchanting setting for a unique gallery event that incorporates music, puppetry, audience interaction and tableaux vivant.
As part of her residency, Waters is advising senior IVAC students on their senior projects. Housed within the art history department in Emory College, IVAC was created to allow interested undergraduates the opportunity to explore visual media and art-making in depth.
The co-major is a collaboration between the departments of art history, theater and dance, film and media studies, and the Emory College Center for Creativity & Arts. Available courses include art history, studio art, scenic and lighting design, choreography, screenwriting, filmmaking and more.  
For more information about "And She Was," contact Megan Watters at megan@watterscreative.com, or learn more online at arts.emory.edu/andshewas.
Megan Watters
An Emory alum, Watters is a Brooklyn-based visual artist currently focusing on found object assemblage. Her recent artwork is focused on mixed media pieces incorporating items like computer wires, book pages, doll parts and dress mannequins. She is interested in the past use of the objects, their histories and their plasticity. By incorporating found objects and live performance into this mixed media piece, she strives to create a complex narrative.
Integrated Visual Arts Co-Major (IVAC)
IVAC allows undergraduate students a structured opportunity to explore visual media and art making, and to develop their creative skills in connection with a general program of humanistic education.

Classes in art history, drawing, painting, sculpture, printmaking, photography, theatrical design, filmmaking, conceptual art practices, digital media and new media, as well as other academic areas, make up the IVAC course offerings. Studio courses emphasize direct, hands-on art making under the guidance of expert practitioners.
The Integrated Visual Arts Co-Major is available to undergraduate students in Emory College, the Goizueta Business School, the Nell Hodgson Woodruff School of Nursing, and Oxford College continuees. For additional information contact creativity@emory.edu.
---