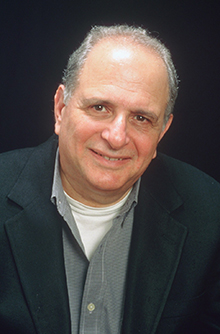 Playwright and Atlanta native Alfred Uhry, best known for his play "Driving Miss Daisy," will take part in a Creativity Conversation at Emory's Robert W. Woodruff Library on Wednesday, Nov. 18.
The event, at 6:30 p.m. in the library's Jones Room, is open to the public at no charge. Uhry's plays will be available for purchase at the event, with a question-and-answer session and a signing to follow.
Uhry, also a lyricist and screenwriter, will be in conversation with Randy Gue, curator of modern political and historical collections at Emory's Stuart A. Rose Manuscript, Archives, and Rare Book Library. The Rose Library is home to Uhry's papers, which include photographs, scripts and audiovisual materials.
"The presence of Alfred Uhry here and his collections in the Rose Library represent a convergence of our collecting strengths in the areas of modern literature, Southern history, and social justice," says Rosemary M. Magee, director of the Rose Library. "We are delighted to welcome him back to Emory to explore his creative impulses and the importance of archives in mapping individual and shared stories."
"Driving Miss Daisy" premiered onstage in 1987, and Uhry later adapted it into the 1989 film. Uhry has received a Pulitzer Prize and an Academy Award (both for "Driving Miss Daisy") and several Tony Awards for his work – the only playwright to win all three awards. Two of his other plays, "The Last Night of Ballyhoo" (1996) and "Parade" (a 1998 musical about Leo Frank), along with "Daisy," are unofficially referred to as his "Atlanta Trilogy" of plays because all are set in the Atlanta area.
Uhry, a graduate of Druid Hills High School, said by phone from his home in New York that he's looking forward to coming back to Atlanta. It's such a part of him that it's the reason he has set his most popular plays in the city.
"Atlanta is my home. It's what I know, and what I feel about it," he says. "Where you grew up, and what you observed then, is something you carry with you."
Gue said the conversation will focus on Uhry's work, his relationship to Atlanta and the city as it appears in his work, which should be an interesting conversation for Atlanta history buffs.
"I want to talk to him about the city as it was when he was growing up and the time period," Gue says. "I also want to talk to him about the city as it appears in his work. When you read his work, you can see he has a very sophisticated understanding of Atlanta history."
Uhry is looking forward to the Creativity Conversation. "I really like the Q-and-A more than anything," he says. "You get very wide-ranging questions."
Gue said digital materials recently were added to Uhry's collection in the Rose Library – the playwright has been using scriptwriting software for the past several years – and the entire collection will be processed in time for the conversation. "We'll be able to highlight his connection to Atlanta's history, his work, the collection and the additions," Gue says.
The Woodruff Library at Emory University is located at
540 Asbury Circle in Atlanta, 30322
. Parking is available in the
Fishburne
deck.
---