Carolyn Clevenger 02MN DNP GNP-BC FAANP takes to heart Emory's mission of educating nursing leaders of the future. So much so that the associate professor and assistant dean for MSN education is determined to show her students how it's done.
"If we say we are preparing nurse leaders, I think our students should expect to be taught by nurse leaders," says Clevenger. "It's not enough to talk about leadership, you have to actually model it."
In September, Clevenger assumed the presidency of the Gerontological Advanced Practice Nurses Association (GAPNA), formerly the National Council for Geriatric Nurse Practitioners. The 2,500-member organization represents the interests of advanced practice nurses who work with older adults in a variety of practice settings.
Clevenger had been involved in the Georgia chapter of GAPNA since its inception in 2006, serving as its president in 2010. (In fact, all of the Georgia chapter presidents have been Emory alumni.) She helped build the young chapter into one of the most active and successful in the entire organization.
"When you go to the national meetings, everyone knows about the Georgia chapter," Clevenger says.
She got her feet wet at the national level by serving as GAPNA's website editor for four years before she decided to take on the three-year presidential commitment—agreeing to serve on the board as president-elect, president, and immediate past-president. Why would she take on such a big job in addition to her teaching and clinical roles at Emory?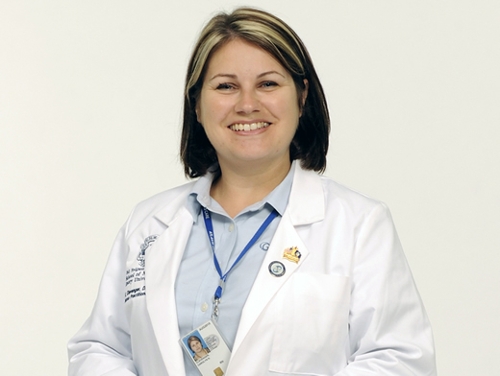 Clevenger's advice to aspiring nurse leaders: "Never go into a leadership
role just because it's a leadership role. You need to think about the people
you will be working with and what the organization does for its members.
You need to really believe in an organization if you are going to lead it."
"I believe in the organization," says Clevenger. "I think it does important work and is a good resource for its members. And I also feel that it is my professional responsibility. It's just my turn."
As president, Clevenger will be deciding how GAPNA responds to some significant changes in the industry. For example, the professional certification recently has changed from gerontological nurse practitioner to adult-gerontology nurse practitioner. In response, GAPNA is looking into creating a subspecialty certification for geriatric specialists for those who want to work with the frail elderly.
"We've spent the past two years doing competency development, and this coming year we'll be working on establishing the certification," she says. "It is our way of helping ensure that patients are getting the best care by the best-prepared provider."
---