As students hit the books this fall, Emory swimmer Andrew Wilson is hitting the pool full time. Wilson, a senior majoring in physics and applied math, is taking a year off from his studies to prepare for his chance at competing in the 2016 Summer Olympics.
"I just thought that if I had extra time to focus on swimming without the demands that being a student at a top university entails, I could be better at Olympic Trials next summer," Wilson explains. "Of course, I plan to return to Emory."
Earlier this year, Wilson qualified for the 2016 U.S. Olympic Trials in both the 100 and 200 breaststroke. In August, he stunned the swimming world when he won the national championship in the 100-meter breaststroke and placed third in the 200-meter breaststroke at the 2015 Phillips 66 USA Swimming National Championships, posting times that would have qualified for the U.S. team in the 2012 Olympics and made him the sixth fastest American ever.
Swimming World Magazine dubbed him "the breakout breaststroke star of Nationals," and his times earned him a spot on the 2015-16 U.S. Swimming National Team, announced in September.
"I was extremely happy with the result, but ultimately my goal is to make the U.S. team for Rio next summer, so most of all I'm just happy with how it sets me up heading into the Olympic year and Olympic Trials," Wilson says.
Making the U.S. Swimming National Team for this year "is something I've wanted for as long as I can remember," he says. "It's just an honor to be able to represent the U.S. doing something I love."
The Olympic Trials, set for June 26 through July 3 in Omaha, Nebraska, will determine who represents Team USA in the 2016 Summer Olympics in Rio de Janeiro, Brazil.
So until then, Wilson is training with Longhorn Aquatics at the University of Texas at Austin, an NCAA Division I program, where he swam during the summer since NCAA Division III rules prevent athletes from training with their school coaches outside of the season.
"A typical day for me now is pretty simple," he says, describing mornings that begin at 5:15 a.m., with his first swim practice starting at 6 a.m. After a nap, he returns to practice in the afternoon with an hour or more of cardio and weight-training, followed by two more hours in the pool.
"After that I come back home and cook dinner, then usually head to bed around 9:15, and then start all over," he says.
He's also finding time to stay in touch with his Emory teammates, whom he hopes to rejoin next year. He came back to Atlanta to visit at the beginning of the semester, and watches Emory swim meets online. 
"The plan is just to take the 2015-16 school year off, and then return in fall 2016 to finish my degree and last year of NCAA eligibility with Emory," he says.
Wilson praises Emory's support for his Olympic dreams, and Emory Swimming & Diving Coach Jon Howell says the Eagles are cheering him on and will be happy to welcome him back.
"Of course we can't know how this will go for him, but there is no one I know out there right now at his level who is still getting better at the rate he is getting better," says Howell, who talks with Wilson regularly and will help support him at upcoming meets.
Expanding what is possible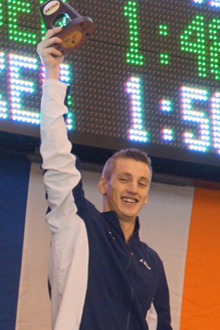 Andrew Wilson celebrates after winning the NCAA Division III Championship for the 200 individual medley.
Wilson and Howell both acknowledge that he was not an elite swimmer when he came to Emory. "Quite honestly he was not one of our top prospects, but I kept hearing good things about him," Howell says. "He really developed when he was here."
Howell, also named to the prestigious roster of U.S. National Team Coaches, notes Wilson's motivation to "go above and beyond" as a key factor in his success.
"It's really a combination of his determination, work ethic and drive, along with the fact that physically he has really developed over the last three years," Howell says. "It's the perfect storm — he was waiting to become great and just needed the opportunity to bring it forward."
As a junior, Wilson delivered a historic performance at the Division III National Championships. He was crowned an NCAA Champion in the 100 and 200 Breast as well as the 200 IM and set NCAA records in all three events. He was named the NCAA Division III Swimmer of the Year, the United Athletic Association (UAA) Swimmer of the Year and the CoSIDA Academic All-American of the Year for Division III At-Large for his performance.
And while Emory's swim team misses having him alongside them this season, he continues to have an impact, Howell notes.
"Although he is not competing and putting points on the board, he expands what is possible," Howell says. "He is not just a great athlete; he is a wonderful model for what can happen at a Division III school like Emory."
---