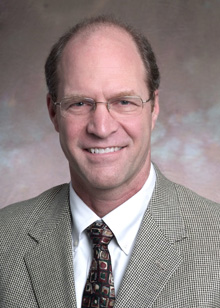 Physicians caring for health-care workers who may be exposed to Ebola virus need a framework for deciding who will receive post-exposure prophylaxis, an Emory vaccine researcher recommends.
A Commentary by Mark Mulligan, MD, published in Lancet Infectious Diseases, appears in connection with a report on measures taken to protect eight British health-care workers with occupational exposure to Ebola virus in Sierra Leone.
Mulligan is executive director of the Hope Clinic of the Emory Vaccine Center, and has overseen emergency post-exposure vaccination of American health-care workers exposed to Ebola virus.
While the Ebola virus disease outbreak in West Africa appears to be winding down, survivors --with ongoing health care needs – may harbor the virus in some body fluids for months after recovery. In addition, future outbreaks are possible.
That's why health care workers need a plan that will offer appropriate post-exposure prophylaxis measures to those considered at intermediate or higher risk of infection, Mulligan and Emory internal medicine resident Paul Siebert, MD, write.
The authors note that if a vaccine, such as the promising VSVdeltaG-ZEBOV vaccine, is proven efficacious, pre-exposure prophylaxis through immunization will become possible. In the meantime, a risk assessment algorithm is needed.
By now, several Ebola-exposed health care workers, including those described in the Lancet Infectious Diseases report from Jacobs and colleagues, have been provided measures ranging from antiviral drugs to antibodies to an experimental vaccine.
"Uncertainty exists about which, if any, investigational PEP [post-exposure prophylaxis] might be effective. Jacobs and colleagues offered treatments that were available, had preclinical evidence for anti-Ebola activity [no data for people were available] and had a favorable risk-to-benefit ratio," the authors write.
While this approach was pragmatic, "a needed next step is the development of a consensus risk determination algorithm devised by an expert panel, drawing on all available evidence, endorsed by health organizations, and disseminated to the field," Mulligan and Siebert write.
---