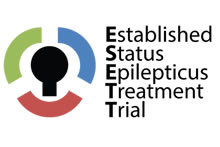 The Emergency Neurosciences Division of Emory's Department of Emergency Medicine will soon begin an emergency seizure study to compare three commonly used medications in patients who are actively seizing, despite initial treatment. The trial, funded by a multimillion-dollar grant from the National Institutes of Health, is intended to determine which drug is safer and more effective during active seizures.
Called the Established Status Epilepticus Treatment Trial (ESETT), the five-year, multi-center trial is expected to begin at Grady Memorial Hospital's Emergency Department (ED) in early September. Status epilepticus is an epileptic seizure of greater than five minutes, or more than one seizure within a five-minute period without the person returning to normal between them.
Patients who arrive at Grady's ED with ongoing seizure activity will first be given a dose of benzodiazepines (medications that change brain chemistry to stop seizures). If the seizure activity does not stop, they will be enrolled in the clinical trial and randomly assigned to receive one of three study medications.
The three medications being tested are fosphenytoin (also called Cerebyx or Dilantin), levetiracetam (also called Keppra) and valproic acid (also called Depacon or Depakote). All three drugs are regularly used to treat seizures and are all approved by the Food and Drug Administration (FDA) for the prevention of seizures, but levetiracetam and valproic acid have not been FDA approved for use in prolonged seizures as in status epilepticus. And while fosphenytoin has been approved to stop prolonged seizures in adults it has not been FDA approved for use in children. Doctors have used all three of these drugs to stop prolonged seizures in adults and children for years.
Neither the patient nor the doctor will know which medicine the patient receives, making it a double-blinded study. Because of the emergency nature of these types of seizures, the subjects will be given study medications using Exception From Informed Consent (EFIC) so that treatment is not delayed.
"Exception From Informed Consent allows research studies in certain life-threatening emergency situations, such as this one, to be conducted without patient consent," says Jonathan Ratcliff, MD, MPH, assistant professor of emergency medicine and neurology (neurocritical care) at Emory and local principal investigator of this study. "EFIC can only be used in the following scenarios: when the person's life is at risk; when the best treatment is not known; when the study drug might help the person and when it is not possible to obtain informed consent from the patient or a legally authorized representative before the drug must be given."
The patient or the legally authorized representative will be notified about their enrollment as soon as possible and consent will be obtained for ongoing participation in the study, when feasible.
"Status epilepticus is a life-threatening condition, particularly if treatment is delayed," says Ratcliff. "The disorder can be associated with significant neurological injuries and cognitive defects, with a mortality rate estimated at 17 percent. It is exciting to think that the ESETT study may better help us treat epilepsy in the future, while also improving the care of these patients."
Study organizers will hold two educational meetings about the clinical trial on July 18 at 11 a.m. and 2 p.m. at Grady Memorial Hospital (in the trauma auditorium) to inform the community about the study. If anyone does not want to participate in the study — should they be brought to the emergency room experiencing a seizure — they can contact the study coordinators in advance and receive a bracelet to wear to opt out of enrollment in the study.
Once the study gets underway at Grady, the study will then open enrollment at Emory University Hospital, followed by Emory University Hospital Midtown, followed by Children's Healthcare of Atlanta.
Emory University is a part of the Neurological Emergency Treatment Trials (NETT) Network. More than 700 participants nationwide from other NETT sites will be enrolled in this study. For more information, email ESETT@emory.edu .
---