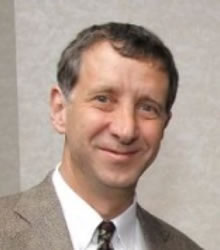 Eric J. Sorscher, MD, has been named a Georgia Research Alliance (GRA) Eminent Scholar and Hertz Professor in Cystic Fibrosis Research. The position is jointly sponsored by Emory University, Children's Healthcare of Atlanta and the GRA. Sorscher, a nationally recognized leader in cystic fibrosis (CF) research, will lead the development of an innovative program in basic and translational research, with a particular focus on the discovery and development of new drugs for CF patients.
The GRA Eminent Scholar is one of the most prestigious academic appointments at research universities in Georgia. Sorscher joins 12 other GRA Eminent Scholars at Emory University and is the second in the Emory Department of Pediatrics. His is a research leadership position that is seen as critical to the ongoing expansion of child health research in Atlanta, especially in the area of CF. The Hertz Professor in Cystic Fibrosis is a new professorship named in honor of Doug Hertz, who has made enormous contributions in leadership at Children's and the Georgia Research Alliance.
"Dr. Sorscher has three committed partners backing him – Emory, Children's and the GRA, and we are single-minded in our pursuit of novel therapies for CF and other chronic diseases," says Doug Hertz, president & CEO of United Distributors and GRA Board Chair. "I have no doubt he will transform the landscape of CF research in Georgia, if not nationally."
Sorscher is a nationally recognized leader in CF research with research funding exceeding $15.8 million from sources including the National Institutes of Health and the Cystic Fibrosis Foundation. He is currently director of the Gregory Fleming James Cystic Fibrosis Research Center at the University of Alabama at Birmingham (UAB), and he holds the Gwaltney Endowed Chair for Cystic Fibrosis Research. He is professor of medicine, human genetics, and cellular and integrative biology.
"The comprehensive CF program at Emory and Children's provides care for the second largest cohort of CF patients in the country," says Barbara J Stoll, MD. the George W. Brumley, Jr., Professor and Chair of the Department of Pediatrics, Emory University School of Medicine, and Director, Emory and Children's Healthcare of Atlanta Pediatric Center. "We are delighted to have recruited Dr. Sorscher to Atlanta. An outstanding scientist, he joins wonderful colleagues at Children's and Emory and will help expand leading-edge clinical trials, partnerships with industry, and collaborative research studies throughout the Atlanta scientific community."
"Dr. Sorscher has deep insights into the mechanisms of CF, and all our institutions will benefit from his scientific creativity and his collaborative nature," says Christian P. Larsen, MD, DPhil, dean of Emory University School of Medicine and vice president for health center integration for Emory's Woodruff Health Sciences Center. "As a valuable addition to the School of Medicine faculty, he will combine his unique experience and knowledge of academic-industry partnerships with Emory's programs in drug development to accelerate discoveries into new and more targeted therapies for CF."
Sorscher is originally from Flint, MI and graduated summa cum laude with honors in biology from Yale University in 1979. He completed his medical degree from Harvard University in 1984 following a one-year leave of absence to study CF. He trained as a resident at Massachusetts General Hospital, and completed two postdoctoral fellowships, one at Massachusetts General, the other at UAB. He has served in multiple leadership roles with the North American Cystic Fibrosis Conference and the National CFTR Protein Folding Consortium.
He has published more than 130 peer-reviewed articles and 13 books chapters and reviews. He holds 17 patents and two Food and Drug Administration Investigational New Drug (IND) approvals. He has served as a consultant to Gilead Pharmaceuticals for their CF research program, as an external advisor to Genzyme Corporation, and as a consultant for the Cystic Fibrosis Foundation in their drug development partnerships with industry.
About Georgia Research Alliance
The Georgia Research Alliance (GRA) works to expand research and commercialization capacity in Georgia's universities to recruit world-class talent, seed new companies and transform lives. For twenty-five years, GRA has worked to strengthen the research enterprise in Georgia by working in partnership with the University System of Georgia and the Georgia Department of Economic Development to create the companies and jobs of Georgia's future.  Visit www.gra.org for more information.
About Emory University
Emory University is known for its demanding academics, outstanding undergraduate experience, highly ranked professional schools and state-of-the-art research facilities. Emory encompasses nine academic divisions as well as the Michael C. Carlos Museum and The Carter Center. Emory's Robert W. Woodruff Health Sciences Center is an academic health sciences center focused on missions of teaching, research, and health care. It includes Emory University School of Medicine, Nell Hodgson Woodruff School of Nursing, Rollins School of Public Health, Winship Cancer Institute, Yerkes National Primate Research Center, and Emory Healthcare, Georgia's largest and most comprehensive health care system.
About Children's Healthcare of Atlanta
Children's Healthcare of Atlanta has been 100 percent dedicated to kids for 100 years. A not-for-profit organization, Children's is dedicated to making kids better today and healthier tomorrow. Our specialized care helps children get better faster and live healthier lives. Managing more than 870,000 patient visits annually at three hospitals and 25 neighborhood locations, Children's is the largest healthcare provider for children in Georgia and one of the largest pediatric clinical care providers in the country. Children's offers access to more than 60 pediatric specialties and programs and is ranked among the top children's hospitals in the country by U.S. News & World Report. With generous philanthropic and volunteer support since 1915, Children's has impacted the lives of children in Georgia, the United States and throughout the world. Visit www.choa.org for more information.
Media Contacts:
Amanda Schroeder, Georgia Research Alliance, aschroeder@gra.org, 404-443-2659
Holly Korschun, Emory University, hkorsch@emory.edu, 404-727-3990
Patty Gregory, Children's Healthcare of Atlanta patty.gregory@choa.org, 404-785-7618
---