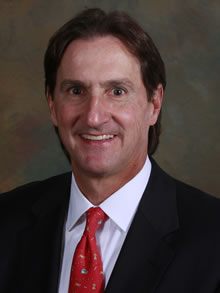 Emory Saint Joseph's vascular surgeon Peter B. H'Doubler, Jr., MD, was named the 25th recipient of the hospital's annual E. Napier "Buck" Burson Physician Award of Distinction. The award is Emory Saint Joseph's highest honor for physician service and is named for the late Burson, a longtime Dunwoody resident, who was a leader in the field of gastroenterology.
During the ceremony, which also included Medical Staff Years of Service Awards, many physicians were recognized for their distinguished service to the hospital, ranging from five to 50 years. Harold Asher, MD, was commended for his 50 years in practice in gastroenterology and internal medicine.
Burson Award recipients are selected for their adherence to the Mercy philosophy and contribution to the Mercy mission in Atlanta; contribution to the quality of medicine practiced at Emory Saint Joseph's; and leadership as a member of the medical staff.
H'Doubler has practiced medicine at Emory Saint Joseph's since 1991. He began working with Dr. Harold Harrison, a renowned vascular surgeon at the hospital, in 1993. "Dr. Harrison had a tremendous impact on my life. He was a brilliant technical surgeon who gave me every opportunity, and he was a pioneer in vascular surgery at Saint Joseph's and the southeastern United States," says H'Doubler.
During H'Doubler's years of service at Emory Saint Joseph's, he has worked as the director of the non-invasive Vascular Laboratory, the chief of the Vascular Surgery section, and the head of Vascular Services at the Heart and Vascular Institute.
Most notably, in 1999, H'Doubler developed a technique to place an intraortic balloon pump (IABP) through the axillary artery in the chest of patients awaiting heart transplant. Before H'Doubler introduced this innovative procedure, IABPs were only used for one or two days. With this life-saving technique, the IABP could be left in place much longer, patients were more comfortable and there were fewer complications.
In addition to his medical contributions at Emory Saint Joseph's, H'Doubler has served on the board of directors of the Mercy Foundation for nearly 20 years. A longtime supporter of the Mercy mission, H'Doubler has cared for many Mercy Care patients needing vascular treatment or evaluation, something he learned from his father and grandfather, both surgeons. "They would always take care of patients regardless of their financial ability to pay, and this has always been important to me."
H'Doubler earned his undergraduate degree from Dartmouth College and medical degree from Harvard Medical School. He completed his residency at Massachusetts General Hospital in Boston and fellowship in vascular surgery at Emory University Hospital. Before joining Emory Saint Joseph's Hospital, H'Doubler also worked at Massachusetts General and the University of Virginia Hospital.
"I am truly honored to receive this award, because I know what Dr. Burson meant to this hospital. He was actively involved in the care of his patients, and demanded the best from his colleagues, and I was fortunate to take care of Dr. Burson near the end of his life," H'Doubler added.
A veteran of World War II and recipient of the Bronze Star for his heroic actions on the beaches of Iwo Jima, Burson was chief of the medical staff at Emory Saint Joseph's for 25 years, leading the hospital after its relocation to Sandy Springs in 1978. During his tenure at Emory Saint Joseph's, Burson also pioneered the diagnostic tool of GI endoscopy.
---