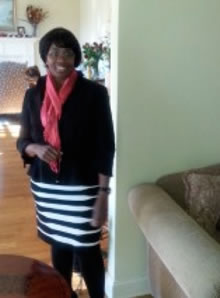 In celebration of National Nurses Week, Emory Saint Joseph's Hospital introduces Admission and Recovery Unit nurse Sharon Baptiste.
How long have you worked at Emory Saint Joseph's?
15 years.
What is your current role? 
I presently work in ARU (admission and recovery unit) and I have also worked on 7 West (post interventional cardiology).
Why did you choose a career in nursing?
I absolutely love talking to people and learning their stories. Nursing gave me an opportunity to be part of a profession that provides caring, compassionate care which complements my religious beliefs.
What is your current role?
I recently advanced to a nurse scholar and am currently pursuing a MSN degree.
Have you received any awards?
I received the Daisy Award, and our nursing group won first place for Emory Saint Joseph's Evidence Based Practice Poster in 2014.
Do you have a special patient experience to share?
Last year, I took care of a patient who was extremely nervous having his IV started. After all my interventions failed to calm and relax my patient, I decided to ask about his hobbies and things he enjoyed doing. He related that he loved music  and Michael Jackson especially. I took out my phone and played "Hold My Hand" by Michael Jackson and Akon. As we sang along to the lyrics, he was distracted enough for me to insert his IV! I know this was unconventional, but it worked and  he was grateful to have a nurse who was willing to "think outside the box" and make him comfortable. This made for a memorable experience for both of us.
---