For spider monkeys, social grooming comes at a cost
By Carol Clark | eScienceCommons | May 29, 2015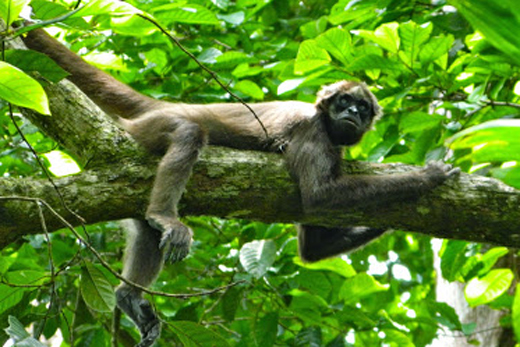 "Breakthroughs in technology are allowing for more detailed network analyses, so that we can study the connection between sociality and health in ways that we couldn't in the past," says Thomas Gillespie, an Emory disease ecologist studying endangered brown spider monkeys. Photo by Rebecca Rimbach.
Social grooming, or helping others to stay clean and free of lice and other ecto-parasites, has long been associated with hygiene and good health in wild primates. In the process of picking out ecto-parasites, however, the groomers may be picking up internal ones, a new study finds.

The journal Philosophical Transactions of the Royal Society B published the results of the study on critically endangered brown spider monkeys, showing that physical contact is associated with the spread of several common gastrointestinal parasites.
"Previously, it was generally assumed that animals are more likely to pick up these parasites from feces or other environmental sources," says Thomas Gillespie, a disease ecologist at Emory University whose lab led the study. "Our research shows that the external surfaces of animals can serve as viable locations for development to infective stages of such parasites."