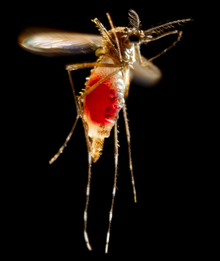 An international research partnership between the Emory Vaccine Center in Atlanta and the International Centre for Genetic Engineering and Biotechnology (ICGEB) in New Delhi, India has received a grant from the National Institutes of Health to study dengue virus infection in India.
The award is part of the NIH International Collaborations in Infectious Disease Research (ICIDR) program, a competitive grant program aimed at U.S. and collaborating foreign institutions studying infectious diseases of public health significance in resource-constrained countries.
The overall objective of the Emory-India ICIDR program is to build capacity for dengue research in India using state-of-the-art tools and technologies to address critical scientific questions important to the health and well being of dengue-exposed populations. A substantial part of the five-year grant of nearly $3.4 million will fund researchers in India.
This first ICIDR award to Emory and scientists in India was facilitated by the ICGEB-Emory Vaccine Center partnership, a unique collaboration spearheaded by Rafi Ahmed, PhD, director of the Emory Vaccine Center, and by ICGEB leadership. The Minister for Science and Technology, Government of India, inaugurated the international center in 2008. The goal of the joint center is to conduct vaccine research on infectious diseases of public health importance to India that disproportionately affect the developing world.
The ICIDR award is the result of three years of research led by Murali-Krishna Kaja, PhD, associate professor in Emory University School of Medicine and the Emory Vaccine Center, and additional Emory investigators and collaborators from India, with support from the Department of Biotechnology (DBT), Government of India, and the DBT-NIH Indo-U.S. Vaccine Action Programs.
Dengue is a global epidemic, with an estimated 390 million infections worldwide every year and nearly 100 million cases of clinical disease. This acute systemic viral infection results in clinical disease ranging from febrile illness to hemorrhagic fever and fatal dengue shock
 syndrome, with children being more susceptible to severe forms of the disease.
"Currently there are no
available antivirals or vaccines for dengue, thus there is a
compelling need for a better understanding of the
immunology and virology of human dengue virus infections," says Kaja.
"A recent study has shown that India is emerging as an
 epicenter of dengue disease, with an estimated
 20-40 million infections per year, making it the country
with the largest number of dengue infections in the world. However, dengue remains relatively poorly studied in India, making the Emory-India ICIDR program very timely and critical to better understand this significant public health problem."
This ICIDR program is an excellent example of an international multi-institutional partnership program, with investigators from Emory, Rockefeller University, and several participating institutes in India in addition to ICGEB. Investigators from Emory include Drs. Murali-Krishna Kaja, Bali Pulendran, Jens Wrammert, and Rama Akondy, with Dr. Rafi Ahmed serving as the overall PI; and Dr. Navin Khanna from ICGEB serving as PI from India.
Other participating institutions and investigators include Drs. Anmol Chandele and Murali-Krishna Kaja from ICGEB-Emory Vaccine Center (New Delhi component); Dr. Jeffrey Ravetch from Rockefeller; Drs. Sushil Kara and Rakesh Lodha from All India Institute of Medical Sciences (AIIMS, New Delhi, India); Drs. Asha Abraham, L. Jeyaseelan, Shobha Mannen, and A. Rajagopa from Christian Medical College (CMC, Vellore, India); and Dr. Cecilia Dayaraj from National Institute of Virology (NIV, Pune, India).
---