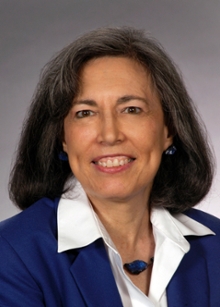 Ann E. Rogers, PhD, RN, nursing professor and researcher at Emory's Nell Hodgson Woodruff School of Nursing will receive the American Association of Critical-Care Nurses (AACN) Pioneering Spirit Award for her research on staff nurse fatigue and  transformative impact patient safety. The award will be presented at the 2015 Visionary Leadership Awards Ceremony at the National Teaching Institute & Critical Care Exposition, in San Diego, California.
Rogers, the Edith Honeycutt Chair in Nursing at Emory is also the director of graduate studies whose work on nurse fatigue and patient safety has broken new ground in nursing research and policy. 
"This is certainly a befitting honor for Dr. Rogers," says Linda McCauley, RN, PhD, dean of the Nell Hodgson Woodruff School of Nursing at Emory.  "As the first to document the adverse effects of nurse work hours on patients, nurses and public safety, her study continues to serve as a model for research in nursing practice and policy." 
The AACN Visionary Leadership Awards recognize significant contributions that have a national or international impact on high acuity and critical care nursing.
Rogers' research has resulted in more than a dozen manuscripts, several book chapters and sweeping changes in nursing policies in clinical settings across the country.
She is a fellow of the American Academy of Sleep Medicine, where she is one of six nurses in the United States certified as a Diplomate. A fellow of the American Academy of Nursing (AAN), she received AAN's Media Award in 2004 in recognition of the public attention garnered by her research on nursing work hours. 
---