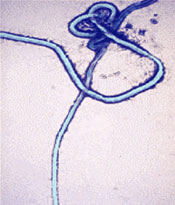 The Emory Vaccine Center is part of a government-academic-industry research partnership led by Inovio Pharmaceuticals, Inc. to develop multiple treatment and prevention approaches against Ebola. The Inovio research team is funded by a two-year contract of up to $45 million from the Defense Advanced Research Projects Agency (DARPA).
In addition to Inovio as the primary contractor, other collaborators are Emory University; MedImmune, the global biologics research and development arm of AstraZeneca; GeneOne Life Sciences and its manufacturing subsidiary, VGXI, Inc.; David B. Weiner, MD, and his lab at The Perelman School of Medicine at the University of Pennsylvania; the Public Health Agency of Canada; and Vanderbilt University.
The Inovio-led consortium aims to develop and conduct early clinical trials of products to prevent and treat Ebola virus infection. These include a therapeutic DNA-based monoclonal antibody product; a protein-based therapeutic monoclonal antibody product, and a DNA-based vaccine, with the first patient expected to be dosed within the next few months.
Previous Ebola research studies have shown that monoclonal antibodies could be useful in treating patients infected with Ebola virus and could be effective as immunoprophylaxis against Ebola and other pathogens where anti-viral drugs or vaccinations are not currently available. Monoclonal antibodies can be administered either just before or just after exposure to combat the immediate effects of the pathogen.
Unlike vaccines, however, prophylactic treatment with monoclonal antibodies does not develop long-term immune memory. Researchers believe an ideal approach would include administering monoclonal antibodies for immediate protection and a vaccine for longer-term protection. Inovio's DNA-based Ebola vaccine was 100 percent effective in protecting animals in pre-clinical research.
"Emory researchers will be involved in conducting the clinical trials and analyzing immune responses induced by the Ebola vaccine," says Rafi Ahmed, PhD, director of the Emory Vaccine Center.
 Inovio's Ebola program is initially targeted to treat first responders and Ebola-infected health care workers and patients, but could potentially be widely used to stem the spread of the current or subsequent outbreaks.
---