As Georgia enters its peak season for tornado activity, Emory's Office of Critical Event Preparedness and Response (CEPAR) wants to make the campus community aware of changes to the National Weather Service's warning system.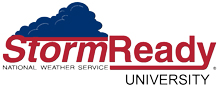 In 2013, the National Weather Service designated Emory as Georgia's first StormReady University.
"Knowledge empowers people. If you think through what to do in advance, you'll be better prepared to take care of yourself and those around you until you can get help," says Sam Shartar, senior administrator for CEPAR.
Georgia is at highest risk for tornados from March through May, although they can occur at any time during the year. On April 1, the NWS implemented a new type of tornado warning system in the portions of Georgia that affect the Emory community.
These warnings are now known as Impact Based Warnings. They are designed to improve communication of the most critical information through the use of specific statements; hazard, source and impact information; and summary tags at the bottom of warnings.
Tornado tags will specify if the tornado is "radar indicated" or "observed," while new tornado damage threat tags will warn when there is the possibility of "considerable" or "catastrophic" destruction from the storm. The NWS offices in Atlanta and Charleston are now using these tags.
Additional information on the Impact based Warning system is available from the National Weather Service at www.weather.gov/Atlanta and www.weather.gov/impacts.
Prepare in advance
CEPAR encourages the Emory community to prepare for disasters before they strike.
"Understanding risks, being aware and dedicating time to prepare for emergencies makes you disaster resilient and can save lives," Shartar says.
Emory's RAVE emergency notification system enables the university to send multiple modes of emergency notifications quickly and efficiently. Notifications include text messages, email, outdoor sirens, social media, RSS messages to webpages, and cable messages directly to Emory Cable Television.
To be prepared in case disaster strikes, members of the campus community should take the pre-emptive step of programming two "short codes" into their list of cell phone contacts — 226787 and 678283 — accompanied by unique ringtones, so that recipients will be able to quickly identify Emory emergency alerts.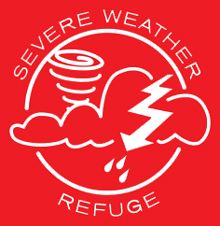 Look for the Severe Weather Refuge logo to identify where you can shelter on campus in case of a tornado or dangerous winds.
Knowing what to do in the event of a tornado warning or dangerous winds, being aware of where shelters are located on campus, reviewing CEPAR's online resources, and downloading a weather app — some are free — to your smartphone are all steps that anyone can take now, Shartar adds.
In the event of a tornado or dangerous winds (winds of 55 mph or greater):
If you are indoors, move to a Severe Weather Refuge location on campus, or the lowest level of a building in an interior room or hallway, away from windows. The locations are marked with the Severe Weather Refuge logo.
If you are outside, seek shelter immediately on the lowest floor of a sturdy nearby building away from windows.
If no shelter is available, lie flat in a nearby ditch or depression and cover your head with your hands. Flying debris causes most fatalities and injuries associated with a tornado.
If you are in a vehicle, which offers little protection, go to the lowest floor of a sturdy nearby building, away from windows or lie flat in a nearby ditch or depression and cover your head with your hands.
For additional directions on what to do during a campus emergency, check out information and links available on the CEPAR website, including: 
---