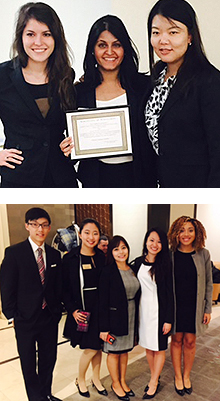 On the heels of impressive regional wins, Emory's Transactional Law Program Negotiation Team won Best Draft, Semi-Finalist and National Champion honors (Seller's side) at the 2015 National Transactional LawMeet. The competition, held earlier this month in New York City, featured 14 teams from law schools across the country, seven for the buyer and seven for the seller.
The LawMeet is a "moot court" event for students interested in transactional law. The judges, all experienced transactional attorneys, review the students' drafts and then observe as the students negotiate key portions of the deal. The students are evaluated on their professional personas, understanding of the clients' objectives, and effectiveness as negotiators. Members of the Emory Law team are developing those qualities and skills in Emory's Transactional Law Program. The winning team members are:
National Champions (sellers): Jenn Greene and Sarika Mathur
Alternates: Abby Gao and Jili Xue
Semi-Finalists (sellers): Zhiqian Chen, Vivian Wang, Liu Chen and Jasmine Johnson
Alternate: Yoojin Kim
Best Draft (sellers): Zhiqian Chen, Vivian Wang, Liu Chen, Jasmine Johnson and Yoojin Kim
All of the winning team members are second-year law students, with the exception of Gao and Xue, who are third-year students.
Center for Transactional Law and Practice
Emory Law is acclaimed for combining doctrine and practice in its rigorous curricular program, serving as the model for transactional education programs across the country. Through the Center's Transactional Law Program, students have the opportunity to become financially literate, acquire a strong foundation in business law doctrine, and practice contract drafting and other critical deal skills. The Center provides a roadmap for every student interested in studying transactional law — from those who want to learn only the basics to those who want to go further and earn the Transactional Law and Skills Certificate.
---