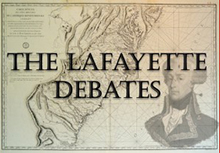 The first edition of the Atlanta Lafayette Debates between Emory University and Morehouse College takes place Thursday, April 16, from 12:30 to 2:30 p.m. at the Millennium Gate Museum on 17th Street in Atlanta. This is the first time the prestigious debates have been held in Atlanta.
Initiated by the Embassy of France and George Washington University, the event is open to the public at the invitation of the Cultural Services of the French Embassy in the United States and along with the Consulate General of France in Atlanta and the museum.
The Atlanta event is organized by the Cultural Services of the Consulate General of France in Atlanta with the support of the Millennium Gate Museum, which is dedicated to the history of the state of Georgia and highlights the accomplishments of Lafayette.
"Resolved: That all states have an obligation to anticipate, prevent and minimize the causes of climate change, and mitigate its adverse effects" is this year's topic for the Lafayette Debates.
Climate change was chosen in anticipation of the 2015 Conference of the Parties in Paris (COP21),  convened by the United Nations to get member nations on board for action on this pressing international issue.
The jury will be comprised of climate specialists, including Peter Webster, Georgia Tech professor and an expert recommended by the French Embassy Scientific Attaché; academics; and members of the French consular corp.
Emory's debate team won the 2014 Lafayette Debates held in Washington, D.C.
"The French Embassy hopes this will be the beginning of annual Emory-Morehouse debates, as do we," says Melissa Wade, executive director of the Barkley Forum, Emory's nationally award-winning debate team and community service organization.
The Lafayette Debates, named for the French general who fought for the United States in the American Revolution, is an academic series initiated by the Higher Education Department of the French Embassy in the United States. The goal is to promote intercultural understanding and relations by means of public debate on issues of importance to the Franco-American relationship. The program builds upon the central role of debate in both French and American intellectual traditions.
During his "Heroic Tour" of the United States in 1824, General Lafayette and his son George Washington Lafayette were received by the "Enosinian Society," the debate and literary society of the Columbian College. Both men accepted honorary memberships to the Society, which was commemorated by a series of debates entitled The Lafayette Debates.
---