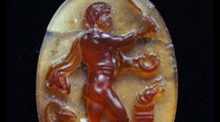 "Three Thousand Years of Ancient Engraved Gems" is the title of a lecture at the Michael C. Carlos Museum on Wednesday, April 29, at 7:30 p.m. in the Reception Hall.
Erika Zwierlein-Diehl, Honorary Professor of Classical Archaeology at the University of Bonn, will talk about ancient gemstones and the history of gem engraving in the Mediterranean area as part of the Carlos Museum's lecture series.

Gem engraving began in the third millennium BC in the Minoan civilization of Crete with the first images hand cut in relatively soft stones.
Harder materials like carnelian or rock crystal were used beginning from circa 1600 BC; the gems were engraved at a lathe with rotating drills. The collapse of the Mycenaean civilization, which was influenced by the Minoan civilization, at the end of the Bronze Age also meant the end of the art of engraving.
Engraving revived after the "Dark Ages," flourishing throughout the entire Greek period, and spreading throughout Etruria (central Italy) and other parts of Italy where, in the first century B.C., Greek gem-engravers gained clients in Rome and heavily influenced Augustan art and later styles as well.
For more information, visit the Carlos Museum website.
---