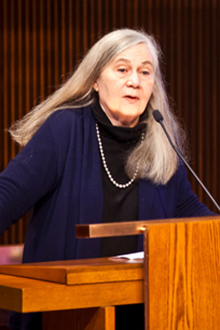 Prize-winning author Marilynne Robinson was among the speakers at "Prophetic Voices."
Some of the best minds in theological education gathered for an academic conference at Candler School of Theology March 18-20 to consider pressing issues facing theology in the coming century. Part of Candler's yearlong Centennial Celebration, "Prophetic Voices: Confronting Theological Challenges of the Next Century," sponsored by the McDonald Agape Foundation, featured a dozen renowned theologians from Candler and beyond.
The three-day event consisted of academic presentations by Candler faculty members, with responses from distinguished guest panelists and questions from the audience. Each of the presentations centered on a theme deliberately crafted and selected by Candler's Centennial Committee, chaired by Luke Timothy Johnson, R.W. Woodruff Professor of New Testament and Christian Origins. Johnson introduced the four themes in his opening keynote titled "Meeting the Theological Challenges of the New Century": theological imagination and secularization, the image of God in the contemporary world, God's creation and the care of the earth, and the kingdom of God and global pluralism.
"These were identified as issues that are distinctive to our age in a way that they weren't when Candler was founded a century ago," Johnson said. He noted that each topic involves convictions close to the core of Christian identity, contains a wealth of research from earlier theological traditions, involves developments of history and culture, and is under serious threat in the contemporary world.
Full Story at Candler School of Theology »
---