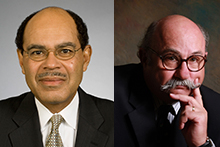 Update, March 20: Due to scheduling conflicts, the April 2 event with Joe Louis Barrow has been canceled.
Two special events related to the Emory University exhibition "Bobby Jones: The Game of Life" are planned in coming weeks.
On Monday, March 16, the public is invited to a "Bobby Jones Renaissance: A Conversation with Jones Biographer Sidney L. Matthew" at 6:30 p.m. in the Jones Room at the Robert W. Woodruff Library. Matthew, author and historian on legendary golfer Bobby Jones, placed his collection of original and research materials with the Manuscript, Archives, and Rare Book Library (MARBL) in 2012, and it opened to researchers in 2014.
Matthew will be in conversation with Randy Gue, curator of MARBL's Modern Political and Historical collections. They will discuss the life and legacy of the famed golfer and Emory alum (Jones attended Emory's law school), and Matthew will also talk about his research, collecting and writing about Jones.
On Thursday, April 2, Joe Louis Barrow Jr., CEO of The First Tee program, will discuss "Diversity in Golf" at 6:30 p.m. in the Jones Room. The First Tee is a junior golf program that helps young people develop integrity and sportsmanship through golf and character education.
Barrow grew up with the game; his father, Joe Louis, heavyweight champion of the world from 1937 to 1949, became a golfer as early as 1935. Shortly after his retirement from the ring in 1951, the former champ would play a key role in the integration of the PGA.
Barrow will discuss diversity and inclusion in golf, the significance of golf in "the game of life," and the achievements of The First Tee.
Both events, open to the public at no charge, are in conjunction with the Bobby Jones exhibition, on display at Emory's Woodruff Library until Nov. 30, 2015. Materials in the exhibition were drawn from the Bobby Jones collection and the Sidney L. Matthews research collection, both housed at MARBL.
The Robert W. Woodruff Library is located at 540 Asbury Circle in Atlanta, 30322. Parking is available in the Fishburne deck.
---