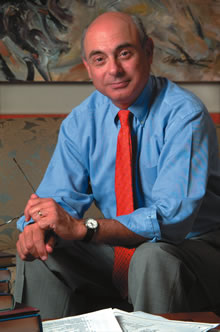 Michael M.E. Johns, MD, former Emory University chancellor and former executive vice president for health affairs, received the 2015 Castle Connolly National Physician of the Year Award for Lifetime Achievement.  The award was presented March 23 at Castle Connolly's annual Physician of the Year Award dinner at the historic Pierre Hotel in New York City.
Also receiving the Lifetime Achievement award this year was John B. Mulliken, MD, professor of surgery at Harvard Medical School and director of the Craniofacial Centre at Boston Children's Hospital.
The National Physician of the Year Awards recognize both physicians and leaders in health care whose dedication, talents and skills have improved the lives of thousands of people throughout the world. This event is a tribute not only to the awardee but also to the excellence of the many thousands of practicing physicians throughout the nation.
"I have been fortunate to build a successful life, and I would never have done so if not for the people who shaped me along the way," said Johns in accepting the award. "In addition to a wonderful family, I've been blessed with many great mentors and preceptors who taught me the value of asking 'why.' They have all helped me understand that the most important thing we can do in our careers is to realize that our greatest contribution is in helping others to keep the winds of change blowing."
Before becoming Emory University's fifth chancellor on Oct. 1, 2007, Johns served as CEO of the Robert W. Woodruff Health Sciences Center (WHSC) and as Emory executive vice president for health affairs from 1996 to 2007.  The WHSC includes Emory University School of Medicine, Nell Hodgson Woodruff School of Nursing, Rollins School of Public Health, Yerkes National Primate Research Center, Winship Cancer Institute and Emory Healthcare, the largest, most comprehensive health care system in Georgia.
During Johns' tenure as CEO, he led a comprehensive strategy that positioned the Woodruff Health Sciences Center as one of the nation's preeminent academic health centers in education, research and patient care. He initiated the drive that resulted in National Cancer Institute Cancer Center Designation for the Winship Cancer Institute, and the research enterprise was re-energized, resulting in funding support for the center's biomedical and behavioral research more than doubling over 10 years to $331 million by 2007. Johns, an otolaryngologist and head and neck cancer surgeon by training, and current professor in the Emory University School of Medicine and Rollins School of Public Health, continues to be a significant contributor to many of the leading organizations and policy groups in health care, including the Institute of Medicine, the Association of American Medical Colleges, the Commonwealth Fund Task Force on Academic Health Centers, the Association of Academic Health Centers, and many others.
He frequently lectures and publishes, and works with state and federal policy makers, on topics ranging from the future of health professions education to national health system reform.
---