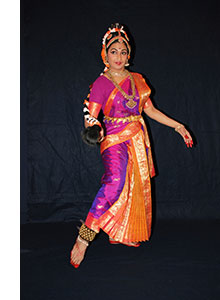 Poetry, dance and song from the Telugu culture of India will be performed at "An Evening of Telugu Arts" on Thursday, March 26, at 7:30 p.m. at the Schwartz Center for Performing Arts.
The free public event will feature Carnatic vocal music, a classical south Indian music style, performed by Subhashini Krishnamurthy; Kuchipudi dance by Sasikalea Penumarthi; and poetry readings by V. Narayana Rao and Joyce Burkhalter Flueckiger.
Krishnamurthy will sing "Enta Matramunan Evvaru Talacina: You are as one imagines" by Annamayya; and "Proddu Poyyenu: So much time has passed" and "Bhajana Seya Rada: Why don't you sing of God?" by 18th-19th century composer Thyagaraja.
Penumarthi teaches in the dance program at Emory. Kuchipudi is a classical dance form of India, whose themes comes from stories from religious texts with the message of good over evil.
"Kuchipudi dance means an art that encompasses everything," says Penumarthi.
She will perform "Ganesha Stuti: Invocation to Ganesha, Remover of Obstacles" by the 21st century poet Ramakrishna Bhagavatar; "Paluku Tenala Talli: Mother who speaks so sweetly" by the 15th century poet Annamayya; "Balagopala Krishna Tarangam: Praise to child Krishna" by 17th-18th century poet Narayana Teertha; and, joined by Akhila Takkallapalli, Sri Yellamraju, Parina Shah and Smriti Suresh, "Ardhanarishvara: The Lord who is half woman" attributed to 8th century philosopher Adi Shankara.
Rao is visiting distinguished professor of South Asian studies and Flueckiger is professor of religion. Rao and Flueckiger will read 16th century poet Pedanna's "A Definition of Poetry" and "Vamana Avatara: The dwarf incarnation of Vishnu who reclaims the earth from the demon king Bali" and "Rescue of the Elephant Gajendra," both of these by 15th century poet Potana.
Robin Forman, dean of Emory College, will give opening remarks.
This concert is made possible by the Koppaka Family Foundation, established in part to further the lifelong interest of Koppaka Visweswara Rao in Telugu arts, music and literature and to make Telugu culture more accessible in the United States.
For more information, contact Juana Clem McGhee.
---