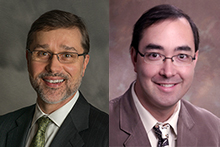 Two Emory University executives with extensive experience assumed key interim leadership roles March 16, as Michael J. Mandl, formerly executive vice president for business and administration, became the new president and CEO of Emory Healthcare.
Emory University President James Wagner appointed Rich Mendola, who had served as enterprise chief information officer and senior vice provost for library services and digital scholarship, to serve as interim executive vice president for business and administration while Emory conducts a national search to permanently fill the position.
"Rich has provided outstanding leadership for our information technology during the past decade and, more recently, for the libraries," Wagner said. "I'm confident that he will bring similar expertise and leadership in fulfilling this critical interim role."
To fill the post previously held by Mendola, Marc Overcash, who had served as deputy chief information officer, was named interim enterprise chief information officer and senior vice provost for library services and digital scholarship.
"Marc works closely with Rich and has been instrumental in developing enterprise solutions and best practices, especially in the areas of research technology support and informatics," Wagner said.
Mendola joined Emory in 2005 as vice president of information technology and CIO, where he was responsible for all information technology activities across Emory University and Emory Healthcare, after spending 10 years at the University of Illinois, including serving as associate vice president of administrative information technology for the University of Illinois three-campus system.
Mendola and his team have led significant enhancements to Emory's academic, research and clinical systems and put in place new enterprise functions for information security, IT architecture and support for research.
In 2013, Mendola was appointed to the new position of enterprise chief information officer and senior vice provost of library services and digital scholarship, after serving for several months as interim vice provost and director of the libraries. The creation of the new position reflected the increasingly close relationship between digital technologies and research libraries, and Mendola was selected after a national search.
"Rich brings a reputation of a deep commitment to the academic enterprise, superb administrative and managerial skills, visionary leadership abilities and an intense desire to enhance the library's place as the institutional academic commons," Claire Sterk, Emory provost and executive vice president for academic affairs, said at the time.
Mission-driven leadership
Ten days into his new interim role as executive vice president for business and administration, which includes reporting to Wagner as a member of the president's cabinet, Mendola said he is excited about the opportunity to continue Mandl's legacy of mission-driven leadership.
"Mike always brought the business and administration priorities back to supporting the mission, and I have always tried to do the same thing," Mendola said.
"It is important that all of us in administration reflect on the way in which our day-to-day priorities contribute to the mission — whether that is direct support of it, or making processes more efficient so there are more resources to devote to the direct support of the mission," he said.
Working at Emory means more than working in IT, finance, human resources or any other specific field, Mendola said.
"We are in the business of educating students, of advancing discovery and research and providing clinical care in our health care enterprise," he said. "Those are the things that I'd want everyone in business and administration to be able to connect the dots to."
Looking back on his career at Emory thus far, Mendola said he is proudest of the times when he has helped facilitate connections to further the overall mission and vision of the university.
"From IT to the library, there has been a common theme to most of the work I have done and the work I am most proud of: It has been taking organizations that in some way were disconnected or disparate and bringing them together so they could deliver more value," he said. "I feel good that we made a lot of progress in that regard."
As Overcash steps into Mendola's former role, he also puts the focus on Emory's mission.
"Our Library and Information Technology Services department has been working on a large set of initiatives to improve our services in support of Emory's mission and its community," Overcash noted. "My top priorities will focus on ensuring that these priorities continue to move forward and have positive outcomes for the Emory community."
Overcash came to Emory in 2005 after serving as chief enterprise architect and associate director of program management for the Centers for Disease Control and Prevention.
Beginning his Emory career as director of information technology for Rollins School of Public Health, Overcash in 2007 became deputy chief information officer for research and Woodruff Health Sciences. He continued to hold that position while also becoming assistant dean for information technology for Emory University School of Medicine in 2011.
He is excited to have the chance "to make a greater impact on the Emory mission."
"Library services and information technology are core services that touch almost every part of scholarship, service, and discovery," he said. "Being able to work with such distinguished colleagues across the Emory community is a real honor."
---