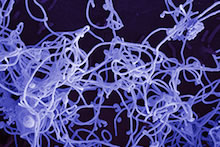 Faculty members from Emory's Departments of Emergency Medicine and Family Medicine are partnering with the Centers for Disease Control and Prevention (CDC) to provide expert consultation, evaluation and education about Ebola.    
Seven Emory physicians have been awarded government-funded grants for one year to provide on-site consultation, educational content and issues management assistance to the CDC Global Migration Task Force. For the next year, six of the participating physicians will spend 20 percent of their time, and one will spend 50 percent of time at the CDC.  
"Emory's emergency medicine physicians are honored to partner with the CDC on these efforts of preparedness," says Kate Heilpern, MD, Chair and Ada Lee and Pete Correll Professor of Emergency Medicine at Emory. "The opportunity to impact disease spread and advance education about Ebola is integral to this partnership."  
Emory and CDC experts will work together to evaluate Ebola screening stations at airports, infection control precautions, Ebola preparedness and response in the maritime sector and cost analysis of screening operations. They will also work with epidemiologists regarding contact investigation preparedness and illness response.  
To date, Emory Healthcare has successfully cared for and discharged four patients diagnosed with Ebola virus disease. Emory continues its mission of teaching and educating others about Ebola preparations and precautions in the U.S. and abroad.
---