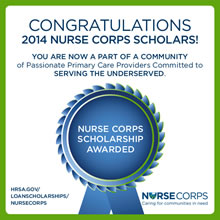 Emory's Nell Hodgson Woodruff School of Nursing is ranked among the top 20 nursing programs in the country for students receiving NURSE Corps scholarships for their commitment to helping vulnerable populations receive access to primary care. 
Every year some of the brightest minds throughout the country commit to help underserved communities by applying for opportunities such as NURSE Corps. Nurse Corps scholarships enable students accepted or enrolled in nursing programs to receive funding for tuition, fees and other educational costs in exchange for work in an eligible Critical Shortage Facility upon completion of their degrees. After graduation, NURSE Corps Scholarship recipients work at these facilities for at least two years, earning the same competitive salary and benefits as regular new hires.
A total of 16 students from the Nell Hodgson Woodruff School of Nursing were among those chosen to receive these scholarships out of more than 700 applicants from over 2,600 schools. The NURSE Corps Scholarship application process is highly competitive, with less than 10 percent of the applicants receiving the scholarship.
"We are extremely proud of the outstanding achievements of our 16 Nurse Corps students," says Linda McCauley, PhD, RN, dean of the Nell Hodgson Woodruff School of Nursing. This honor is a tremendous milestone in their developing careers as they experience firsthand the front lines of patient care."
---