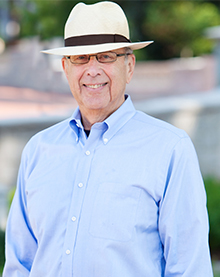 Looking to build a personal version of the good life?
Emory psychology professor Marshall Duke offers pointers in his talk, "Resilience and Happiness: Living Strong, Living Well, Living Good," on Thursday, Feb. 5, at 5 p.m. in Room 102 of the Center for Ethics.
This free public event is part of the Center for Ethics' The Good Life Speaker Series. Each lecture seeks to facilitate a meaningful exchange of ideas on how to lead the "good life," based on Aristotle's concept of eudemonia.
Duke, Charles Howard Candler Professor of Psychology, fits the series' bill to attract speakers whose experiences and knowledge provide distinctive and challenging understandings on how to lead a good life. He has studied family issues for years, including how family storytelling strengthens familial ties.
Duke's popular "Parenting a College Student" lectures have also guided the parents of numerous first-year students in dealing with having their children leave home as they go off to their next phase of life.
"There are many meanings to the word 'wellness' beyond simply not being ill," Duke says about his upcoming talk. "I hope to convince people that wellness is an active rather than a passive way of being and explore several aspects of wellness beyond the physical."
Refreshments will be served. Flourish Emory in the Office of Health Promotions and the Barkley Forum of Campus Life are also sponsors of the talk.
For more information, email Jason Hsu.
---