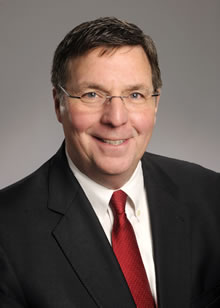 John T. Fox, president and CEO of Emory Healthcare, has announced that he will leave Emory to become president and CEO at Beaumont Health, which is based in Detroit, Michigan.
Fox, who joined Emory in 1999, will begin his tenure at Beaumont on March 25, 2015. In his new role, Fox will be responsible for providing strategic direction and leadership for the new health system, which was officially formed in September 2014 through an affiliation involving Beaumont Health System, Oakwood Healthcare and Botsford Health Care.
"While leaving Emory Healthcare is a difficult decision, the challenge of leading Beaumont Health System, as well as the opportunity to be closer to family, played a significant role in this decision," said Fox.
Emory Healthcare's executive leadership team will remain in place and report to Wright Caughman, MD, CEO of Emory's Woodruff Health Sciences Center, and Michael Mandl, chairman of the Emory Healthcare Board, until a new president and CEO is named.  
"John has built an exceptionally strong leadership team, and they will remain in place and continue to function in their current roles," said Caughman. "We are appreciative of all that John has accomplished in his 15 years at Emory, and thanks in large part to John's leadership, Emory Healthcare is well positioned to engage, flourish and lead through the changes that will be part of the landscape of academic healthcare in the 21st century."
---