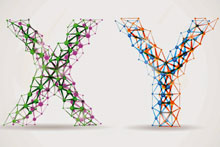 Women born with a rare condition that gives them a Y chromosome don't only look like women physically, they also have the same brain responses to visual sexual stimuli, a new study shows.

The journal Hormones and Behavior published the results of the first brain imaging study of women with complete androgen insensitivity, or CAIS, led by psychologists at Emory.

"Our findings clearly rule out a direct effect of the Y chromosome in producing masculine patterns of response," says Kim Wallen, an Emory professor of psychology and behavioral neuroendocrinology. "It's further evidence that we need to revamp our thinking about what we mean by 'man' and 'woman.'"

Wallen conducted the research with Stephan Hamann, Emory professor of psychology, and graduate students in their labs. Researchers from Pennsylvania State University and Indiana University also contributed to the study.
The Y chromosome was identified as the sex-determining chromosome in 1905. Females normally have an XX chromosome pair and males have an XY chromosome pair.
---