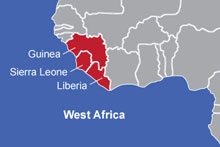 Emory University issued new guidelines today related to travel to countries affected by Ebola virus disease. The guidelines, effective immediately, apply to faculty, staff and students traveling to Guinea, Liberia and Sierra Leone.
 
The federal Centers for Disease Control and Prevention has issued a Level 3 travel warning for the three countries, urging people residing in the United States to avoid non-essential travel to these areas. Emory's guidelines note that they will also apply to any additional countries for which the CDC might issue a Level 3 warning during the outbreak of Ebola virus disease.
 
Emory's new guidelines prohibit travel to EVD-affected countries through programs sponsored by Emory, unless specifically authorized. Emory also discourages personal travel to these countries while the Level 3 warning is in effect.
 
The guidelines note the "dire need" for health care workers in affected countries and stress "Emory does not discourage health care workers and others who wish to volunteer for the EVD outbreak response from traveling to the affected countries," provided that specific precautions outlined in the guidelines are followed.
 
The guidelines include procedures for travelers returning from countries affected by Ebola virus disease and conclude by affirming Emory's commitment to maintaining an environment free of unlawful harassment and discrimination.
"Conscious of the deep fear surrounding EVD Emory University is committed to preventing stigma and discrimination against individuals at risk of, infected with, or recovered from EVD," the guidelines state.
 
View full guidelines.
---