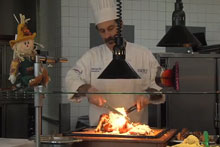 On Thursday, Nov. 20, Emory Dining will host the annual Heritage Turkey Feast at lunch in Dobbs Market at the DUC and Lil's Dining at Oxford College. Since 2008, Emory has served heritage breed turkeys during this pre-Thanksgiving celebration as part of its commitment to sustainable food.
Heritage turkeys, including breeds with unique names like "Standard Bronze," "Bourbon Red," "White Holland" and "Narragansett," have turkey genetics dating back to the early 1880s. According to Heritage Foods USA, "there are dozens of varieties of turkeys. Each type looks different, acts different, tastes different, and comes from a different agricultural tradition. Maintaining rare and heritage breeds is crucial for a healthy and safe food supply."
The turkeys to be served on Thursday come from Good Shepherd Poultry Ranch in Kansas where they were raised on pasture without antibiotics and were purchased through a partnership with Heritage Foods USA. Heritage Foods USA works with small farmers raising heritage breeds of turkeys, cows, pigs, sheep, chickens and other livestock and helps connect these producers to customers, like Emory University.
"It may seem counterintuitive at first, but in order to save these breeds, we must create viable consumer markets and eat them," says Emily Cumbie-Drake, Emory sustainability program coordinator.
Approximately 540 pounds of turkey will be served alongside sage gravy, simmered greens, sorghum roasted sweet potatoes and buttermilk pie. Staff and faculty are encouraged to join students and can enjoy this meal for $7 at Dobbs Market. Cash and credit cards are accepted at the entry to the dining facility.
For menu ideas that incorporate seasonal, sustainable and heritage products, visit Slow Food USA's "
Have a Slow Thanksgiving
."
---