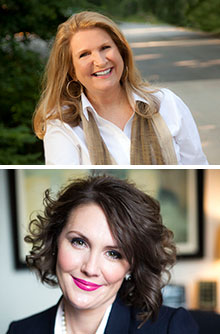 Tami Thomas, PhD, RN and Melissa Pinto, PhD, RN, assistant professors at Emory University's Nell Hodgson Woodruff School of Nursing, will be inducted into the American Academy of Nursing (AAN) Fellowship during a formal ceremony at the AAN's Annual Conference and Meeting in Washington D.C. in October.
Induction into the AAN Fellowship is one of the highest honors in nursing. Fellows are considered nursing's most accomplished leaders in education, management, practice and research. They are elected through a highly selective process that recognizes individuals who have made major contributions to nursing and health care and whose work has influenced health policies benefiting all Americans.  
"I am extremely proud to celebrate the induction of these new fellows who have all made a significant impact on health care and research," says Linda McCauley, PhD, RN dean of Emory's Nell Hodgson Woodruff School of Nursing. "Dr. Thomas and Dr. Pinto are incredible assets to the nursing profession and bring the total of AAN fellows at Emory to 24."  
Thomas, director of the Doctor of Nursing Practice (DNP) program is a board-certified pediatric nurse practitioner who joined the School of Nursing in 2010. As a lifelong advocate for underserved children and their families, she has served on a multitude of organizations and consulted with policy makers to inform current advanced nursing practice and has acted as a catalyst for enhancing the health care delivery system. Since 2007, the Robert Wood Johnson Foundation, Sigma Theta Tau International, the National Institute of Nursing Research and the National Institute of Minority Health and Health Disparities have funded her research in the prevention of population specific risk factors for infectious diseases and the HPV virus. Dr. Thomas' research findings have been published in a number of leading publications such as the Journal of Nursing Scholarship, Journal of Nursing Measurement, Journal of Adolescent Health and Journal of Transcultural Nursing. She is an alumna of the prestigious Robert Wood Johnson Nurse Faculty Scholar program.
Pinto has expertise in the areas of behavioral health and innovative e-health interventions for adolescents and young adults with mood disorders. She is a thought leader in the evolving role of technology in behavioral health. Her pioneering research, Electronic Self-Management Resource Training for Mental Health (eSMART-MH), advances traditional health care delivery paradigms and has garnered national attention. In 2013, Dr. Pinto was invited to present eSMART-MH at the White House Technology Innovations for Substance Abuse and Mental Health Treatment Conference. Additionally, she addressed the North Carolina Governor's Institute on Substance Abuse, alongside the director of the Substance Abuse and Mental Health Service Administration (SAMHSA). Dr. Pinto has provided consultation to national policymakers regarding potential regulations for and dissemination of behavioral health technologies. She is currently involved with the Carter Center's Mental Health Program to improve mental health for children and adolescents. Dr. Pinto's work has been funded by the National Institutes of Health National Center for Advancing Translational Sciences through a career development KL2 award, the National Institute of Mental Health, the American Nurses Foundation and the Midwest Nursing Research Society.
The AAN is comprised of more than 2,100 nursing leaders in education, management, practice and research. The AAN serves the public and the nursing profession by advancing health policy and practice through the generation, synthesis and dissemination of nursing knowledge.  
---